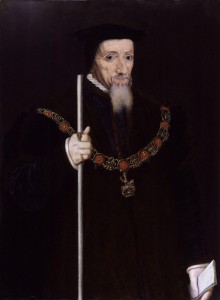 William Paulet was born in 1474/5 at Fisherton-Delamare in Wiltshire. He was the eldest son of Sir John Paulet and his wife, Alice. William's date of birth is based on the testimony of William Camden and Sir Richard Baker confirming that he was ninety-seven at his death in 1572, an exceptionally advanced age even for modern times. He attended school at Thavies Inn and subsequently studied at the Inner Temple, becoming an utter barrister. By 1509, he had married Elizabeth Capel, daughter of the lord mayor of London, by whom he had several children including John, future second Marquess of Winchester, Chidiock and Giles.
Paulet acted as High Sheriff of Hampshire on several occasions, having been appointed to the role in 1511, 1518 and 1522. In 1514 he was named as Justice of the Peace for the county, and was later involved in commissions of muster in Wiltshire. He was knighted between 1523 and 1525, and was appointed Master of the King's Wards in 1526, as well as acting as a member of the council. At around the same time, he succeeded his father as Marquess of Winchester. In 1531 he was appointed surveyor-general of the possessions of royal wards and widows and idiots. He was later appointed master of the court of wards and liveries, enabling him to acquire a number of lucrative wardships. During the 1530s, Paulet also acted as comptroller of the royal household and was later appointed treasurer of the household in 1537, a post he retained until 1539. These positions required him to frequently attend the king. He also appears to have enjoyed the king's confidence as one of his councillors. Paulet acquired further offices during Henry VIII's reign. In 1543 he was appointed lord great chamberlain and was made great master of the household and lord president of the Privy Council two years later.
During Edward VI's reign, Paulet served as lord treasurer and was closely involved with the daily running of the exchequer. His administrative and political duties ensured that Paulet attended several great occasions during his career, including the baptism of Princess Elizabeth in 1533 and Prince Edward in 1537. He was involved in the arrangements for Jane Seymour's funeral and participated in the reception of Anne of Cleves. He also participated at Edward VI's coronation and acted as the king's chief mourner at his funeral in 1553. After Mary I's accession, Paulet featured in her ceremonial procession to Westminster Abbey and carried the orb at the coronation ceremonies. He had reportedly opposed the Duke of Northumberland's attempt to prevent Mary from succeeding her brother. During Mary's reign, Paulet was occupied with the financial administration of the navy and mustering her forces. In the reign of Elizabeth, he was dismissed from performing the duties of the speaker of the House of Lords, probably in view of his infirmity. By 1570 he had retired to his property of Basing House, where he died on 10 March.
Written by Conor Byrne.