31 July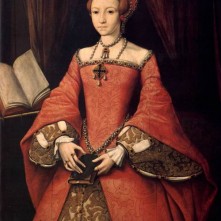 1544 - The future Elizabeth I wrote her earliest surviving letter to her stepmother, Catherine Parr. It was written in Italian and in a beautiful italic hand. Click here to read more about it.
1549 – Death of Edmund Sheffield, 1st Baron Sheffield, in Norwich. It is said that he was killed by a butcher called Fulke, while serving in the royal army against the rebels of Kett's Rebellion. Apparently, he stumbled into a ditch and then was killed by a blow from Fulke. Sheffield was buried in St Martin's at the Palace, Norwich.
1553 - Henry Grey, Duke of Suffolk, "was discharged out of the Tower by the Earle of Arundell and had the Quenes pardon."
1574 – Death of John Douglas, Archbishop of St Andrews and educational reformer, in St Andrews. He was buried in the public cemetery. It is said that he died in the pulpit.
1 August
1534 – Germain Gardiner wrote a tract against reformer and martyr John Frith entitled "A letter of a yonge gentylman named mayster German Gardynare, wherein men may se the demeanour and heresy of John Fryth late burned".
1545 – Birth of Andrew Melville, Scottish theologian and Principal of St Mary's College, St Andrews University, at Baldovy, Angus.
1555 - Apothecary, alchemist and medium Sir Edward Kelley was born on this day in 1555 in Worcester. Click here to read about Kelley.
1556 – Burning of Joan Waste, a blind woman, in Derby for heresy after she refused to recant her Protestant faith.
1596 – Death of John Astley (Ashley), courtier, probably at Maidstone in Kent. He was buried there at All Saints' Church. Astley served Elizabeth I as a Gentleman of the Privy Chamber, Master of the Jewel House and Treasurer of the Queen's Jewels and Plate. He was also married to Katherine Astley (née Champernowne), Elizabeth I's former governess and Chief Gentlewoman of the Privy Chamber.
1605 – Death of Sir Edmund Anderson, Judge and Chief Justice in Elizabeth I's reign, in London. He was buried in the parish church at Eyworth.
2 August
1514 – Edward Stafford, Duke of Buckingham, was granted a licence to found a college at Thornbury.
1521 – Cardinal Wolsey arrived in Calais to act as peacemaker and preside over a conference aiming to put an end to the fighting between France and the Empire.
1553 – Elizabeth greeted her half-sister, the newly proclaimed Queen Mary I, in London.
1555 – Burning of James Abbes, Protestant martyr, in Bury for heresy.
1556 – Death of George Day, Bishop of Chichester. He was buried in Chichester Cathedral.
1581 – Burning of Richard Atkins, Protestant martyr, before St Peter's in Rome. It is said that as he was taken to St Peter's, his back and breast were burned by men holding torches, and that his right hand was then cut off and his legs burned first to prolong his suffering.
1589 – Death of Henry III of France after being stabbed in the abdomen by Jacques Clément, a fanatical Dominican friar, the day before. He was buried at the Basilica of Saint-Denis.
1595 – The Battle of Cornwall. Spanish forces landed at Mount's Bay and the English militia fled, allowing the Spanish troops to move on and burn Penzance, Mousehole, Paul and Newlyn. Click here to read more.
1596 – Burial of Thomas Whithorne, composer and autobiographer, at St Mary Abchurch, London. Whithorne was Chapel Master to Archbishop Matthew Parker.
1601 – Death of George Eyste, author, town lecturer, preacher and Vicar. He died in Bury St Edmunds, Suffolk, and was buried in his church, the Church of St Mary.
1605 – Death of Vice Admiral Sir Richard Leveson in the Strand, London. He was buried in St Peter's Church, Wolverhampton.
3 August
1528 – Death of Hugh Inge, Archbishop of Dublin and Lord Chancellor of Ireland, from sweating sickness in Dublin. He was buried in St Patrick's Cathedral, Dublin.
1548 – Birth of Sir Robert Houghton, judge, Treasurer (1599) and Sergeant-at-Law (1603), in Gunthorpe, Norfolk.
1549 – Lord Russell marched his 1000 men from Honiton to Woodbury and set up camp for the night. He was heading towards Clyst St Mary and the rebels of the Prayer Book Rebellion.
1553 - Mary, who had just been proclaimed Queen Mary I, rode with her half-sister, Elizabeth, from Wanstead to Aldgate to be greeted by the city as its new Queen.
1557 - The body of forty-one year-old Anne of Cleves, fourth wife of Henry VIII, was processed from her home, Chelsea Old Manor, where she had died on 16th July, to Westminster Abbey for burial.
1558 – Burial of Thomas Alleyne, clergyman and benefactor, at St Nicholas Parish Church, Stevenage. Alleyne was known for his support of education, through his financing of schoolmasters and the free tuition he arranged for boys.
1562 – Death of John de Vere, 16th Earl of Oxford, leading magnate in Essex and notorious rake, at Hedingham Castle in Essex.
4 August
1540 - Brother William Horne, laybrother of the London Charterhouse was hanged, disembowelled and quartered at Tyburn. He was the last of the Carthusian martyrs to be killed after eighteen members of the Carthusian order of monks based at the London Charterhouse were condemned to death in 1535 for refusing to accept King Henry VIII as the Supreme Head of the Church.
1549 – The Battle of Woodbury Common, part of the Prayer Book Rebellion. The battle took place at 4am and happened when the rebels, who had been defending Clyst St Mary, marched to Woodbury Mill where Lord Russell and his troops had camped for the night. The rebels were defeated. Click here to read more.
1557 – Burial of Anne of Cleves, fourth wife of Henry VIII, at Westminster Abbey.
1560 – Baptism of Sir John Harington, courtier, translator and author, in the church of All Hallows, London Wall. His godparents were Elizabeth I and William Herbert, 2nd Earl of Pembroke. In his "New Discourse of a Stale Subject, called the Metamorphosis of Ajax" (1596), Harington outlined his design for a flush toilet – a privy with a cistern and flush valve. The Ajax, as it was called, was eventually installed at Richmond Palace. See Sir John Harington's Flush Toilet.
1566 – Death of Sir Martin Bowes, goldsmith, politician, Lord Mayor of London and Under- Treasurer of the Royal Mint in the Tower of London. He was buried at St Mary Woolnoth, Lombard Street, London.
1578 – Death of soldier Thomas Stucley at the Battle of Alcazar. Stucley was fighting against the Moors, with King Sebastian of Portugal, when his legs were blown off by a cannon shot.
1598 - William Cecil, 1st Baron Burghley, died at his home in London aged seventy-six. He was laid to rest at St Martin's Church, Stamford, in his home county of Lincolnshire.
1612 – Death of Hugh Broughton, scholar, theologian and Hebraist, in Cheapside, London. He was buried at St Antholin's Church. Broughton spent the last twenty years of his life petitioning for a new translation of the Bible. His works included "A Concent of Scripture" (1588), "An Epistle to the learned Nobilitie of England, touching translating the Bible from the Original" (1597) and "An Advertisement of Corruption in our Handling of Religion" (1604).
5 August
1503 – Death of Sir Reynold (Reginald) Bray, administrator in the reign of Henry VII. He served the King as Chancellor of the duchy of Lancaster, Treasurer of England and Treasurer for war. Some say that he was an architect and designed Henry VII's Chapel in Westminster Abbey, St George's Chapel in Windsor Castle, where he is buried, and Great Malvern Priory. He definitely funded their building.
1532 – Death of Sir Nicholas Harvey, diplomat, at Ampthill, Bedfordshire. He was buried in Ampthill Church where his memorial brass can still be seen.
1549 – The Battle of Clyst St Mary during the Prayer Book Rebellion. The Devonian and Cornish rebels were defeated by Lord Russell's troops, and around 900 prisoners were massacred later that day on Clyst Heath. Click here to read more.
1551(5th or 6th August) – Death of Henry Holbeach, Bishop of Lincoln, at Nettleham.
1600 – Deaths of John Ruthven, 3rd Earl of Gowrie, and his brother, Alexander Ruthven, Master of Ruthven, at Gowrie House near Perth. The brothers were killed as they tried to kidnap James VI. They were posthumously found guilty of treason on 15th November 1600 and their bodies hanged, drawn and quartered in Edinburgh.
1601 – Burial of Henry Norris, 1st Baron Norris of Rycote, courtier, diplomat and son of Sir Henry Norris, one of the men executed for alleged adultery with Queen Anne Boleyn. Norris was buried at the chapel at Rycote in Oxfordshire.
6 August
1504 – Birth of Matthew Parker, Archbishop of Canterbury, in the parish of St Saviour, Norwich. Parker was the son of worsted weaver William Parker and his wife Alice Monings [Monins] from Kent.
1514 – Marriage of Margaret Tudor, sister of Henry VIII and widow of James IV of Scotland, and Archibald Douglas, 6th Earl of Angus, at Kinnoull in Perthshire.
1549 – Battle of Clyst Heath during the Prayer Book Rebellion. Click here to read more.
1623 – Death of Anne Hathaway, wife of William Shakespeare. Anne was buried next to her husband in the Church of the Holy Trinity, Stratford-upon-Avon.