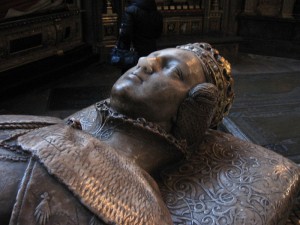 Frances (née Brandon) was the eldest daughter of Charles Brandon, Duke of Suffolk, and his third wife, Mary Tudor, sister of Henry VIII and widow of Louis XII of France. It is worth examining Frances's parents and their significance within Tudor society before moving onto her life. Her father was an extraordinary character: magnate, courtier, and soldier, he exemplified the ideal qualities associated with being a male sixteenth-century courtier. Having been a close confidant to Henry VIII throughout his childhood, Suffolk found military fame in 1512 as a result of his involvement with the Anglo-French war. This war led to a successful siege of the French town of Tournai, with the inhabitants essentially forced to surrender to the invasion of the English king. As a result, Henry passed the keys of the city to Suffolk as a result of his honour and bravery.
While Suffolk exuded chivalric masculinity, Frances's mother equally conformed to the standards of sixteenth-century womanhood, with humanist and scholar Erasmus once reporting that 'nature never formed anything more beautiful than Mary'. Her status as the king's sister, and as a female, meant that she was an ideal candidate for a foreign marriage; forming European alliances abroad and ensuring support from continental powerhouses. Mary became Queen of France in 1514 for several months until the death of her husband, and while her tenure as queen was brief, she continued to sign the majority of her letters, after her husband's death, as 'Queen of France', or 'lady of the French'. This was Mary's clever use of self-promotion and monopolising on her former status as queen; queen being the highest title for a woman during this period. This sense of dignity and status would be passed onto her daughter Frances, who in similarity to her parents, expected her daughters to matrimonially align with distinguished Tudor families.
Frances was born in 1517 at Hatfield, the seat of the bishops of Ely. During this period, Frances was an unusual name, the feminised version of the male name 'Francis'. It has been argued that she was named in honour of the French king, Francis I (as a result of her mother's status as Dowager Queen of France). Historian Charlotte Merton stresses that only a handful of girls were named Frances in the 1520s and that names, among aristocratic families, were often chosen in terms of friendship or the alignment of aspirational family. Merton continues that Frances became a name linked to prestige and nobility, peaking in popularity when Frances and her family formed closer relations with King Edward VI during the early 1550s. Little is documented of Frances's childhood except that she resided at Westhorpe, Suffolk, and that her education was fairly conventional. More is revealed upon her marriage in 1533 to Henry Grey, 3rd Marques of Dorset, the grandson of the 1st Marquis whose mother was Elizabeth Woodville, the wife and queen of the Yorkist king Edward V. The marriage was prosperous, producing three surviving children: Jane, Catherine and Mary. This period witnessed Frances engaging in the expected court events of the Tudor social calendar, i.e., participating in Anne of Cleves' reception by the king on 3rd January 1540 and attending on the king's last wife, Katherine Parr. Frances enjoyed a close relationship with Henry VIII's last wife and, as a result, her daughter Jane joined the dowager queen's household upon the death of the king.
The Suffolk household became associated with its reformist sympathies; evident in the education of their children. Their eldest daughter, Jane, became renowned as a paragon of reformist erudition and pious womanhood. Under the tutorage of John Aylmer, she excelled in Latin, Greek and Hebrew. At the age of just fourteen, her relationship with Protestantism was increasingly evident, resulting in her correspondence with continental reformers, such as Heinrich Bullinger. Jane's joy for learning flourished during her period as a ward of Thomas Seymour, husband of Katherine Parr, studying alongside the future Queen of England, Elizabeth (who also lived with the dowager queen for some time during the latter end of the 1540s). The Suffolks were intent on marrying Jane to a prosperous family, with rumours suggesting that King Edward might be a potential suitor. While to modern western readers this sense of arranged marriage may seem unusual, the Suffolks were acting in a manner similar to other contemporary aristocratic families. Marriage secured family dynasty, wealth and prosperity. Ultimately, Frances and Henry Grey decided on Guildford Dudley, the son of John Dudley, 1st Duke of Northumberland. The duke had, after 1550, become the leading, influential protectorate of King Edward. Aligning Jane with the Dudley family was more than convenient; it combined wealth, status and a shared belief in the Protestant-cause which mutually linked the two powerful families.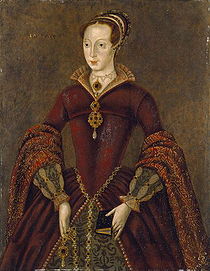 Upon the death of Edward VI, his 'devise for his succession' declared that Jane Grey was the next claimant to the throne of England. Edward had essentially altered the will declared by his father, and on 10th July 1553, Jane was proclaimed Queen of England. Frances was now queen mother, joining her daughter for her proclamation and during her period of residence in the Tower of London. Unfortunately, Jane's tenure was short-lived, famously lasting nine days. Mary Tudor, Henry's eldest daughter, had rallied support in East Anglia and marched on London; regarding herself the rightful claimant according to her father's will. Mary's endeavours were triumphant, and according to historian Judith Richards, she utilised her clothing to emphasise her position as queen regnant, wearing a vibrant purple dress to stress royal authority. Clothing was an ideal, feminine way for Mary to assert her dominance as England's first queen regnant. In terms of Jane's position, as historian Eric Ives has argued, Mary was initially kind towards her. Similarly, the Duke of Suffolk was incarcerated only to be released days later upon the intervention of Frances. The latter was hugely influential during this period in terms of supporting her family, lobbying for her husband's release with Queen Mary and attempting to protect the Suffolk family reputation.
The overriding demise of the Suffolk family was ultimately her husband's vain attempt at joining the Wyatt Rebellion during 1554. The rebellion can arguably be viewed as a Protestant uprising, intent on replacing Mary with the Protestant Elizabeth, who was eventually placed in the Tower because of Mary's suspicions. The involvement of the Duke of Suffolk cemented the family's fall from favour. Mary was in a precarious situation; Jane was a perceived threat and as a result, was sentenced to beheading on 12th February 1554. Piously, the former queen wore a black dress in honour of her devout Protestantism and went to her execution with fortitude and bravery. Her father received an equal fate; convicted of high treason and executed eleven days later on 23rd February 1554. The duchess was essentially in ruin, with the family reduced to just the matriarch and her two adolescent daughters. As a result of this challenging situation, Frances vainly fell on the queen's mercy and, as a result of her husband's treasonous endeavours, remained impoverished during Mary's reign.
Queen Mary was keen to ensure that Frances remained under her observation at court, likely the result of her continued anxiety regarding the surviving two Grey daughters (Catherine and Mary Grey were still potential claimants to the throne through their grandmother). However, the Duchess of Suffolk made an unthreatening second marriage, in the form of her Master of the Horse, Adrian Stokes. He was of no concern to the stability of the Tudor dynasty, and therefore received Mary's blessing. The couple married in 1555 and produced three children: two daughters and a son. Unfortunately for the couple, one died in infancy and the remaining two infants were stillborn. According to historian Leanda de Lisle, the marriage was harmonious minus the untimely death of their children. She continues that the Princess Elizabeth was envious of their reported happiness. This may have been a result of her instability and unhappiness during the 1550s, having been near execution as a result of the Wyatt rebellion in 1554. The young princess maintained an inconspicuous existence throughout the entirety of her half-sister's reign, attending court intermediately and only when required to by her sister. Frances Grey, Duchess of Suffolk, died on 20th November 1559 aged forty-two and was buried at Westminster Abbey, with her husband several years later completing the grave with an expensive effigy that remains in the abbey today.
While the Duchess of Suffolk led a turbulent and often dramatic life, it is important, in the final stages of this article, to examine her posthumous reputation which has, predominantly, been unjustly critical towards her character. Much of her purported infamy is derived from an account written by Robert Ascham regarding Lady Jane's home life. According to Ascham Jane was 'so sharply taunted, so cruelly threatened, presently sometimes with pinches, nips and bobs'. Author Susan Higginbotham argues that in reality, Frances Grey bears no resemblance to the lurid description that Ascham puts forward, and that there is little evidence to suggest that she was a cruel mother (equally, punishment towards children was not unusual by sixteenth-century standards). Additional to this, Ascham wrote his account of Jane's reported grievances years after her and her parents' deaths, leaving its validity open to criticism.
Historian Mary Lovell put forward the argument that the Greys were reportedly cruel as a result of their disappointment of having produced no surviving male heirs, and while they likely were, there is scarcely any evidence, minus Ascham's, to suggest that Jane had an unconventionally cruel upbringing. Rather, as has been examined, Jane received an excellent education from her parents that enabled her to converse with international scholars. She even enjoyed a place within Katherine Parr's household, where her educational and intellectual interests flourished. Frances's negative reputation has also reached greater audiences through the modern convenience of television. The 1986 cinematic film 'Lady Jane Grey' depicts Frances as a scheming, social-climbing mother who is void of emotion and affection for her daughter. Similarly, the opening scene reveals Frances killing a deer in a bloodthirsty manner, while the meek Lady Jane reads quietly within the confines of her house, isolated from her boisterous family. Again, this only sensationalises and perpetuates the myths associated with the Greys' perceived vicious nature towards their daughter. Historical inaccuracies, myth and cinema have unjustly vilified the duchess. However as recent historiography, by Leanda de Lisle and Susan Higginbotham, have put forward, there is a welcome change in the general view of Frances's reputation in modern writing and research.
By Alexander Taylor
Pictures: Tomb effigy of Frances Grey, Duchess of Suffolk; Unknown woman thought by some to be Lady Jane Grey.
Sources accessed
de Lisle, Leanda, The Sisters who would be Queen: The Tragedy of Mary, Katherine and Lady Jane Grey (Harper Press, 2010).
Gunn, J.S, Brandon, "Charles, first duke of Suffolk, (c.1484-1545)", Oxford Dictionary of National Biography (2004).
Higginbotham, Susan, "The Maligned Figure of Frances Grey, duchess of Suffolk" (2012), http://www.susanhigginbotham.com/blog/posts/the-maligned-frances-grey-duchess-of-suffolk/
Merton, Charlotte, "Women, Friendship and Memor"y, ed. Whitelock A, Hunt, A. Tudor Queenship, the Reigns of Mary and Elizabeth (Palgrave Macmillan, 2010)
Richards, Judith, "Examples and admonitions: what Mary demonstrated for Elizabeth", ed. Whitelock, A, & Hunt, Tudor Queenship, the Reigns of Mary and Elizabeth (Palgrave, 2010)
Sadlack, E. Erin, The French Queen's Letters: Mary Tudor Brandon and the Politics of Marriage in Sixteenth-Century Europe, (Palgrave Macmillan, 2011)
Warnicke, M. Retha, "Grey [other married name Stokes], Frances [née Lady Frances Brandon], duchess of Suffolk, (1517-1559)", Oxford Dictionary of National Biography (2004).