3 September
1553 – Edward Courtenay was created Earl of Devon. He had been imprisoned in 1538, at the age of twelve, due to his family's links with the Poles and Nevilles, but was released shortly after the accession of Mary I.
1557 - News reached London that the English and Imperial troops had been successful in storming St Quentin, and there were widespread celebrations; bonfires were lit, bells were rung and there was singing. The good news was marred, however, by news of the death of Henry Dudley.
1588 (3rd or 5th September) – Death of Richard Tarlton, actor and famous clown, in Shoreditch. He was buried in St Leonard's Church, Shoreditch. Tarlton was a member of the Queen's Men, but is famed for his post-play jigs as a clown.
1592 – Death of writer and playwright Robert Greene in Dowgate. He died from a fever and was buried in a churchyard near Bedlam. Greene was a prolific writer, writing autobiographical works, plays and romances, but is best known for his pamphlet "Greene's Groats-worth of Wit bought with a Million of Repentance", which is the first contemporary reference to William Shakespeare. It was actually an attack on Shakespeare, whom Greene accused of plagiarism, and of being uneducated.
1597 – Death of Sir John Norreys (Norris), military commander, at his brother Thomas's home, Norris Castle in Mallow, co. Cork. He died in his brother's arms, and it is thought that his death was due to trouble from old wounds, perhaps gangrene. Norris served as a soldier in France, the Low Countries and Ireland.
4 September
1504 – Birth of Antoine de Noailles, soldier and French diplomat at the English court in Mary I's reign, at Château de la Fage.
1539 - William, Duke of Cleves, signed the marriage treaty promising his sister, Anne of Cleves, in marriage to King Henry VIII. The Duke then sent the treaty to England, where it was ratified and concluded by early October. Click here to read more about the treaty on the Anne Boleyn Files website.
1550 – Death of Sir Thomas Paston, Gentleman of the Privy Chamber in the reigns of Henry VIII and Edward VI.
1588 - Robert Dudley, Earl of Leicester died at his lodge at Cornbury, near Woodstock in Oxfordshire.
He had been ill for some time with a recurring stomach ailment, and so had decided to travel to Buxton to take the waters, but he died on the way. Click here to read more.
1590 – Death of Sir James Croft, Lord Deputy of Ireland, member of Parliament and conspirator. Croft was one of the leaders of Wyatt's Rebellion in 1554, but although he was sentenced to death for treason, he was eventually released and pardoned. He served Elizabeth I as Comptroller of the Household, but was imprisoned briefly in her reign for negotiating with the Duke of Parma without permission. Croft was buried at Westminster Abbey, in the Chapel of St John the Evangelist.
5 September
1548 - Catherine Parr, Queen Dowager, wife of Thomas Seymour and widow of Henry VIII, died aged around 36 at Sudeley Castle. She had given birth to her first child, a daughter Mary, on 30th August, but within a few days of the birth, she had contracted puerperal fever. You can read an article about her burial on the Anne Boleyn Files - click here - and you can read Catherine Parr related articles on the Tudor Society by clicking here.
1558 (5th or 6th September) – Death of Sir Robert Broke, judge, legal writer and Speaker of the House of Commons, at a friend's house in Patshull, Staffordshire. He was buried in Claverley Church, Shropshire. Broke also served as Deputy Chief Steward for the Duchy of Lancaster, Serjeant-at-Law and Chief Justice of the Common Pleas.
1569 – Death of Edmund Bonner, Bishop of London and a man nicknamed "Bloody Bonner", in Marshalsea Prison. He was buried at St George's, Southwark, but it is thought that his remains were later moved to Copford, near Colchester, a manor held by Bonner as Bishop of London. In Mary I's reign, he was in charge of burning reformers in London, hence his nickname "Bloody Bonner". Bonner was imprisoned in Elizabeth I's reign for refusing to follow the "Book of Common Prayer" in his services, and for refusing to take the "Oath of Supremacy".
6 September
1506 – Death of Sir Richard Guildford, courtier and administrator in the reign of Henry VII, in Jerusalem on pilgrimage. He was buried on Mount Syon. Guildford's offices included Master of the Ordnance and Armoury in the Tower of London, Master of the Horse and Privy Councillor.
1520 - Reformer Martin Luther sent his pamphlet "On the Freedom of a Christian" (also known as "A Treatise on Christian Liberty") to Pope Leo X.
1572 – Death of Sir Henry Jerningham at his manor of Costessey in Norfolk. He was buried in the parish church there. Jerningham served Henry VIII, Edward VI, Mary I and Elizabeth I, and his offices in Mary's reign included Privy Councillor, Vice-Chamberlain of the Household, and Captain of the Yeomen of the Guard.
1578 – Sir Francis Drake and his ship, the Golden Hind (or Pelican as it was called then), entered the Pacific Ocean on its circumnavigation of the globe.
1615 – Burial of Timothy Bright, physician, clergyman and inventor of modern shorthand, at St Mary's Church, Shrewsbury. Bright is known for two works, his "A Treatise of Melancholie" (1586) and his "Characterie: an Arte of Shorte, Swifte, and Secrete Writing by Character" (1588).
7 September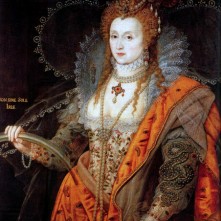 1500 – Birth of Sebastian Newdigate, member of Henry VIII's Privy Chamber, Carthusian monk and Roman Catholic martyr, at Harefield in Middlesex.
1523 – Birth of Alice Barnham (née Bradbridge), silkwoman and benefactor, at Chichester. Alice is known for being one of the subjects of one of the earliest English family group portraits: "Alice Barnham and her Sons Martin and Steven" (once entitled "Lady Ingram and her Two Boys Martin and Steven" in error) from 1557.
1533 - Birth of Queen Elizabeth I, daughter of Henry VIII and Anne Boleyn, at Greenwich Palace. Click here to read more.
1533 - Forty-nine-year-old Charles Brandon, Duke of Suffolk, married for the fourth time. His bride was fourteen-year-old Catherine Willoughby. Click here to read more.
1571 – Arrest of Thomas Howard, 4th Duke of Norfolk, for his part in the Ridolfi Plot to assassinate Elizabeth I and to replace her with Mary, Queen of Scots. Howard confessed to corresponding with Mary's supporters and was taken to the Tower of London. He was executed on 2nd June 1572 after being found guilty of high treason.
1587 – Burial of Richard Barnes, Bishop of Durham during Elizabeth I's reign, in the choir of Durham Cathedral.
8 September
1462 – Birth of Henry Medwall, the playwright known as England's first vernacular dramatist. His 1497 play "Fulgens and Lucres" is the first known secular play written in English. He also wrote a play entitled "Nature".
1475 – Birth of John Stokesley, Bishop of London and Ambassador, at Collyweston, Northamptonshire. Stokesley supported Henry VIII's quest for an annulment of his marriage to Catherine of Aragon, and carried out diplomatic missions for the cause.
1495 – Death of Sir William Hussey, Chief Justice of the King's Bench in Edward IV's reign.
1560 - Amy Dudley (née Robsart), wife of Robert Dudley, Earl of Leicester, died at her home, Cumnor Place in Oxfordshire. Her servants found her body at the bottom of the stairs when they returned from "Our Lady's Fair" at Abingdon, and it appeared that she had fallen down the stairs.
1601 – Burial of John Shakespeare, father of playwright William Shakespeare, at Stratford-upon-Avon.
1603 – Death of George Carey, 2nd Baron Hunsdon, courtier, son of Henry Carey, 1st Baron Hundson, and grandson of Mary Carey (née Boleyn). Carey served Elizabeth I as Marshal of the Household, Justice of the Peace, Lord Lieutenant of Hertfordshire, Captain of the Isle of Wight, member of Parliament, Captain of the Gentlemen Pensioners, Lord Chamberlain and Privy Councillor.
9 September
1513 - The Battle of Flodden between England and Scotland. Thomas Howard, Earl of Surrey, led the English force and was victorious over that of James IV, who died at the battle.
1543 – The infant Mary, Queen of Scots, daughter of James V, King of Scotland, was crowned queen at Stirling Castle.
1583 – Death of Sir Humphrey Gilbert, explorer, soldier, member of Parliament and half-brother of Sir Walter Ralegh, on board The Squirrel after a storm off the Azores. The crew of the Golden Hind heard Gilbert shout "We are as near to heaven, by sea as by land" as The Squirrel sank.