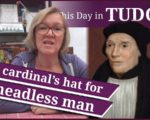 On this day in Tudor history, 20th May 1535, Pope Paul III made John Fisher, Bishop of Rochester, Cardinal-Priest of San Vitale, and arranged to have his cardinal's hat sent to him.
The pope hoped that this would save Fisher, who was imprisoned at the time, from further punishment, but it made the king even more determined to behead Bishop Fisher. Oh dear!
Find out more about what happened in today's talk.
[Read More...]