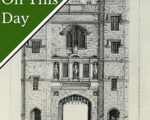 On this day in Tudor history, 30th August 1534 (some sources state 1537), twenty-eight-year-old Observant Franciscan friar Thomas Belchiam died at Newgate Prison. He had starved to death.
Belchiam and his fellow friars at Greenwich had invoked Henry VIII's wrath by supporting Queen Catherine of Aragon during the king's Great Matter and by refusing the oath of supremacy. Belchiam had also reportedly called the king a heretic.
It was alleged that there was an earthquake at the time of Belchiam's death.
[Read More...]