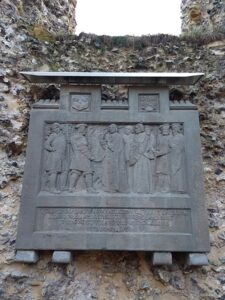 This week's Monday Martyr is Blessed Hugh Faringdon, born Hugh Cook, Abbot of Reading, who was hanged at the gate of his abbey on 14th November 1539 for treason, for allegedly upholding the supremacy of the pope. He was beatified by Pope Leo XIII on 13th May 1895.
For a quick 60 second video on Hugh, scroll down.
Here are some facts about Hugh Faringdon:
He was born Hugh Cook. Faringdon was his religious name and suggests that he came from Faringdon in Berkshire.
His birthdate is not known, but he was a Benedictine monk by 1500.
Hugh was elected Abbot of Reading in September 1520 following the death of the previous abbott.
Under him, the abbey grammar school became known for the quality of his education. Humanist Edward Cox taught there, and young noblemen and those of the gentry class were sent there to be educated.
In 1532 he was appointed a royal chaplain to Henry VIII and hosted the king at his abbey several times.
Although he was a conservative, Hugh took the oath of supremacy and in 1536 he even agreed to the the Act for the Dissolution of the Lesser Monasteries. Historian Claire Cross notes that may have been because he believed that larger houses like Reading would be spared.
Hugh sang a requiem mass following the death of the king's third wife, Jane Seymour, in 1537, and attended her funeral.
In 1538, during the dissolution of the monasteries, Hugh co-operate with officials sent to inventory the abbey's relics, but did not surrender the abbey to the Crown.
Claire Cross explains that Hugh ended up in the Tower in 1539 after it was reported to Cromwell that he was selling abbey produce to the king's disadvantage.
While he was in prison, the abbey was suppressed.
Hugh was found guilty of treason for upholding papal supremacy along with John Rugge, also from the abbey, and priest John Eynon from The Church of St Giles, Reading. It was also recorded that books were found in Hugh's possession that were against the king's supremacy and the annulment of the king's marriage. According to Bede Camm, in his Lives of the English Martyrs, he was also accused of hanging on to a relic, that of the hand of St Anastacius, which should have been turned in to the king's officials.
Rugge and Eynon were hanged with Hugh and also beatified in 1895.
According to Bede Camm, at his execution, Hugh professed his "fidelity to the Holy See", which he described as "the common faith of those who had the best right to declare the true teaching of the English Church".
Image: Bas-relief of the martyrdom of Hugh Faringdon, at Reading Abbey ruins, Shubimperatrix, Wikimedia Commons.
Sources