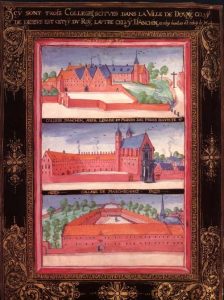 On 28th May 1582, in the reign of Queen Elizabeth I, Roman Catholic priests Thomas Forde, John Shert and Robert Johnson were hanged, drawn and quartered at Tyburn.
In his Memoirs of Missionary Priests, Bishop Richard Challoner gives a biography of each of these Catholic martyrs. You can read it online at archive.org/details/memoirsofmission01, but here are a few details about these men and what led to their horrific ends.
Thomas Forde was a Devonshire man who was educated at Trinity College, Oxford, where he graduated MA in 1567 before becoming a fellow there. He resigned his fellowship due to the college's Protestant stance and in 1571 he travelled to the English College, a Catholic seminary, at Douai in France, to study divinity. In 1573, Forde entered the priesthood and in 1576 he attained his degree in divinity. He then returned to England to evangelise, i.e. spread the Catholic faith. He was arrested on 17th July 1581 with Edmund Campion in Berkshire and taken to London. He was imprisoned in the Tower of London and condemned to death on 21st November 1581 for being involved in what Challoner describes as "the pretended conspiracy of the Rhemes [Rheims] and Rome", although, as Challoner points out "he had never been in his life either at Rhemes or Rome; nor had the witnesses that appeared against him [...] ever so much as seen Mr Forde before his imprisonment.
John Sherte was from Cheshire and was educated at Brasenose College, Oxford, where he graduated BA in 1566 before becoming a schoolmaster in London. In 1578, he began studying divinity at the English College at Douai. He became subdeacon there before completing his studies in Rome. He was made a priest in Rome and then returned to the English College, which by this time had been relocated to Rheims. He returned to England in 1579 with the same mission as Forde. On 14th July 1581. He was condemned at the same trial as Forde.
Challoner writes that Robert Johnson was born in Shropshire but then grew up in the Diocese of Worcester. He served in a gentleman's household before travelling to Douai, where he was made a priest. He began his mission of converting souls to Catholicism in 1576. It is not known when he was arrested and where he was first imprisoned, but he was sent to the Tower of London on 5th December 1580 and tortured there by being put on the rack three times. He was tried with Forde and Sherte in November 1581.
Here are extracts from Challoner's book about the executions of these men:
"On the 28th of May, 1582, after a long series of cruel treatments, and much art used to make them either confess the feigned treason, or deny their faith, the reverend priests, Mr. Thomas Forde, Mr. John Shert, and Mr. Robert Johnson, were all trailed upon hurdles from the Tower of London, through the streets to Tyburn, betwixt six and seven of the clock in the morning. And, first, Mr. Forde being set up in the cart, blessed himself with the sign of the cross; being so weak, that he fell down in the cart, and after he was up, he said, I am a catholic, and do die in the catholic religion. [...] Then was a scroll of his examination (of which we have spoken above) read by a minister and Munday, the pope's scholar, being called as a witness against him. said, that Forde was privy to their conspiracies; but was not able to affirm that ever he saw him beyond the seas. This his assertion Mr. Forde utterly denied upon his death: and being asked what he thought of the queen's majesty; and withal willed to ask her and the whole realm forgiveness; he said, he acknowledged her for his sovereign and queen, and that he never in his life had offended her. And so praying secretly, he desired all those that were of his faith to pray with him; and ended with this prayer, Jesu, Jesu, Jesu, esto mihi Jesus, and hanged until his companion Mr. Shert (likely to terrify him the more) might see him. [...]
[Mr. Shert] Being brought from the hurdle, on which he had been drawn from the Tower to Tyburn, and seeing his companion, Mr. Forde, hanged before him, with a confident courage, smiling countenance, and with his hands lifted up, he spoke as followeth, O happy Thomas! happy art thou that hast run that happy race! O benedicta anima! O blessed soul! thou art in a good case! thou blessed soul pray for me. And being lifted into the cart, he desired all catholics to pray for him: and turning to the place of execution, by commandment of the sheriff, and seeing his companion bowelled and beheaded, he kneeled down and cried out, O Thomas! O happy Thomas! O blessed soul! happy art thou: thy blessed soul pray for me. And being found fault withal, because he prayed to those that were dead; he said, O blessed lady, mother of God, pray for me; and all the saints of heaven pray for me. The sheriff finding fault with this as erroneous doctrine; he answered, that it was both sound and true doctrine, which he would now seal with his blood. After which he began as follows.
O blessed Lord, to thee be all honour and praise: I give thee most hearty thanks, for that thou didst create me of nothing to thy likeness and similitude. 2dly, For my redemption by the death of thy sweet son, Jesus Christ my Saviour and Redeemer. And lastly, that thou wilt bring me thy poor servant to so glorious and happy a death for thy sake; although in the eyes of worldlings contumelious and reproachful; yet to me most joyful and glorious: and for the which I yield thee most hearty thanks. Here he was stopped from proceeding further by the sheriff, who said to him, ask the queen's forgiveness tor these treasons whereof thou art condemned: who answered, the asking of forgiveness doth imply an offence done; and for me to charge myself, being innocent, would be contrary to my duty. We have been racked and tormented for these things, and nothing hath been found: we have also been twice examined since our condemnation, which hath not been seen heretofore in any malefactor. Those supposed treasons, for which I am condemned, I leave between God and myself; and upon my death I am altogether innocent and faultless; and I utterly refuse to ask her forgiveness for this fact whereof I am condemned, for that I am not guilty: but if in any other private matter I have offended, I ask her and all the world forgiveness: for it is impossible for me to be guilty of the conspiracy at Rhemes or Rome, being in England long time before the said supposed treasons committed, and continuing here ever since [...]
And the hangman making ready at the importunate clamour of the people, who cried to dispatch, saying, that he had lived too long. He delivered his handkerchief to the hangman with two shillings therein, saying, take this for thy hire, and I pray God forgive thee. Then, with a loud voice, that all might hear him, he denounced as follows: whosoever dieth out of the catholic church, dieth in the state of damnation. Therewith turning almost round about, he held up his hands, wagging them to the people; and then began to pray as followeth: Domine Jesu Christe fili dei vivi pone passionem, crucem &c. mortem tuam, &c. with his pater, ave, and other prayers. And when the cart was trailed away, his hands being before on high, he light upon the rope and so held it, and the officers pulled them down. The sheriff then said, notwithstanding his obstinacy, see how willing he is to live. And so he hanged till he was dead ; but it seemed to me, that his hands, by chance, as he was putting them down, fell upon the rope, which he held fast in his hands, as, in that case, he would have done any other thing if he had chanced upon it. [...]
[Mr. Johnson] Being brought from the hurdle, he was commanded to look upon Mr. Shert, who was hanging, and then immediately cut down: and so being helped into the cart, he was commanded again to look back towards Mr. Shert, who was then in quartering. And after he had turned and signed himself with the sign of the cross, saying, in nomine Patris, &c. dispatch, quoth the sheriff, and speak quietly. I would be sorry, answered Mr. Johnson, to trouble or offend your worship. You shall not offend me, said the sheriff, so that you offend not God. Johnson; I am a catholic, and am condemned for conspiring the queen's death at Rhemes, with the other company who were condemned with me. I protest, that as for some of them, with whom I was condemned to have conspired withal, I did never see them before we met at the bar, neither did I ever write unto them, or receive letters from them: and as for any treasons, I am not guilty in deed nor thought.[...]
Sheriff. Thou art a traitor most obstinate.
Johnson. If I be a traitor for maintaining this faith, then all the kings and queens of this realm heretofore, and all our ancestors, were traitors, for they maintained the same.
Sheriff. What? you will preach treason also if we suffer you.
Johnson. I teach but die catholic religion.
Hereupon the rope was put about his neck, and he was willed to pray, which he did in Latin. They willed him to pray in English, that they might witness with him; he said, I pray that prayer which Christ taught in a tongue I well understand. A minister cried out, pray as Christ taught: to whom Mr. Johnson replied, what! do you think Christ taught in English? He went on saying in Latin his Pater, Ave and Creed, and in manus tuas, &c. And so the cart was drawn away, and he finished this life as the rest did. They all hanged until they were dead, and so were cut down and quartered."
All three men were beatified in 1886.
Notes and Sources
Picture: The colleges at Douai, Adrien de Montigny, from Les Collèges à Douai of the Album of Duke Charles of Croy.
Challoner, Richard (1803) Memoirs of missionary priests, and other Catholics of both sexes, that have suffered death in England on religious accounts from the year 1577 to 1684, Volume I, T. Haydock, p. 43-48.