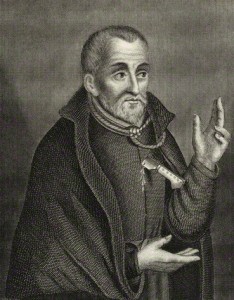 On this day in Tudor history, 25th January 1540, St Edmund Campion, Jesuit and martyr, was born in London.
Campion was hanged, drawn and quartered on 1st December 1581 for treasonable conspiracy.  He was beatified in 1886 by Pope Leo XIII and canonized in 1970 by Pope Paul VI.
Let me tell you a bit more about this Catholic martyr...

Campion was the son of a London bookseller.
On 3rd August 1553, when the queen, Queen Mary I, made her official entry into the city of London and stopped near St Paul's School, it was St Paul's pupil thirteen-year-old Campion who made an oration to her. His oration was well received, both by the listening crowd and the queen herself.
Before St Paul's, Campion had been educated at Christ's Hospital, and in 1558, under the patronage of the Grocers' Company, he entered St John's College, Oxford, where he studied philosophy and theology, attaining a BA and then, in 1564, an MA.
In 1560, when he was twenty, Campion delivered an oration in English at the funeral of Amy Dudley, wife of Robert Dudley, Earl of Leicester, and then, in 1567, an oration in Latin at the funeral of Sir Thomas White.
At Queen Elizabeth I's visit to Oxford in August 1566, Campion welcomed her and took part in a debate in front of her and the university chancellor. His eloquence impressed Robert Dudley, who became his patron.
In 1569, Campion was ordained as a deacon and given a living in Gloucestershire by Richard Cheyney, Bishop of Gloucester, who became good friends with Campion.
Even though Campion was close to the Earl of Leicester and William Cecil, Baron Burghley, it appears that he'd taken the oath of supremacy against his conscience and conformed only so he could enjoy public speaking.
In August 1570, troubled by his conscience, Campion left England for Ireland, going to Dublin at the invitation of his student Richard Stanihurst's father, James Stanihurst, speaker of the Irish House of Commons and Recorder of Dublin. In Dublin, Campion worked on two books, De homine academico and his History of Ireland, which he dedicated to the Earl of Leicester.
Campion's now Catholic faith became a danger to him following the pope's excommunication of Elizabeth I in 1570, so he was smuggled out of Dublin by the Stanihursts and in 1571, he was smuggled into England, disguised as one of the Earl of Kildare's steward's servants.
From England, Campion tried to flee into exile on the Continent but was captured on his way across the Channel. A second try saw him successfully making it across and he entered the English College at Douai. He recanted his Protestant faith, became ordained as a subdeacon, and attained his Bachelor of Theology there in 1572. He also taught rhetoric there.
In 1573, he left Douai for Rome to become a Jesuit novice. He then served in Moravia and Prague, where he also taught philosophy and rhetoric. In 1578, while still in Prague, he was ordained deacon and priest, and he also wrote Latin dramas that were performed at the imperial court.
In December 1579, he was recalled from Prague to Rome by William Allen. In March 1580, Allen chose Campion to serve on a mission, with Father Robert Persons, in England to convert English people to the true faith.
On 24th June 1580, Campion arrived in England, disguised as a jewel merchant. He was with fellow Jesuit, Ralph Emerson. Persons had travelled separately. Campion and Emerson were apprehended at Dover and taken before the mayor, who then released them. They then made their way to London, where they were sheltered by Person's friend, George Gilbert. Just a few days later, Campion preached at Smithfield, at the invitation of devout Catholic, Thomas, Lord Paget. The Jesuits then moved to Hoxton, where Campion wrote his "Challenge to the Privy Council", also known as his Brag. His biographer, Michael A R Graves, writes that this "was a challenge to debate religion with councillors, university scholars, and lawyers, confident that 'no one Protestant nor all the Protestants living … can maintain their doctrine in disputation'". Thomas Pound, a Catholic who was on parole, printed and circulated copies of it, and prominent Protestants called Campion a traitor.
In August 1580, Campion left London, travelling through Berkshire, Oxfordshire, Northamptonshire, then later, Nottinghamshire, Derbyshire, Yorkshire and Lancashire, preaching, ministering to Catholics and writing his "Rationes Decem", or 10 reasons, which presented the Catholic case against the Anglican Church. He completed it in March 1581 and it was published by Persons, on his own press at Stonor Park, Oxford, as well as abroad.
On 17th July 1581, Campion, two other priests and seven laymen were arrested at Lyford Grange in Berkshire, home of Edward Yates, after they were betrayed by Catholic informer, George Eliot. They were taken to London, Campion being forced to wear a hat inscribed with the words "The Seditious Jesuit". On arrival at the Tower of London, Campion was put in the Little Ease, a cell beneath the White Tower so called because its size prevented a person from being able to stand, sit, or lie down. It is said that Campion spent four days in it, which must have been truly awful.
Campion was then escorted by river to the home of Lord Chancellor Thomas Bromley to be questioned by him, the Earl of Leicester and Sir Christopher Hatton. Campion refused to answer the men's questions so the privy council ordered a further examination and if Campion still refused, the use of the rack. Campion was racked during his interrogations which took place over a three month period, and the Venetian and Spanish ambassadors recorded that he was also tortured by having iron spikes driven "between the nails and the quick". It is little wonder that at his trial in November 1581, Campion had to be helped to raise his hand to make his plea.
In her excellent book "God's Traitors", Jessie Childs explains that during the interrogations Campion stayed firm to his Catholic faith and refused to say where he said Mass or provide the government with any new information. Childs notes, however, that he did confess in a letter to Thomas Pounde, giving his interrogators the names of those who had sheltered him.
Campion was tried with seven other priests at Westminster Hall on 20th November 1581. Campion defended himself so well that it was expected that the jury would acquit him. Campion declared that it was not treason for him and the other priests to adhere to their faith and that they were still the queen's loyal subjects, but that they were willing to die for their faith if it came to it. The jury found Campion and his fellow priests guilty of treason and as Sir Christopher Wray, Lord Chief Justice, condemned them to be hanged, drawn and quartered, Campion began singing the Te Deum and his fellow priests joined in.
On 1st December 1581, forty-one-year-old Campion, and priests Ralph Sherwin and Alexander Briant, were drawn on hurdles to Tyburn for execution. Campion begged the forgiveness of those he had named during his interrogations, saying that he had only named them after being promised that no harm would come to them. He kept being interrupted by Sir Francis Knollys, who questioned him on his opinions on the pope's bull of excommunication against the queen and his loyalty to the pope. Thomas Alfield, a Catholic present at Campion's execution, recorded that he "was asked for which queen he prayed … [H]e answered, yea for Elizabeth your queen and my queen … And so he meekly and sweetly yielded his soul unto his Saviour, protesting that he died a perfect catholic."
Campion's feast day is celebrated on 1st December and the very rope that tied Campion to the hurdle which dragged him from the Tower to Tyburn is used in Campion Day masses said on his feast day at St Peter's Church, Stonyhurst College. Pupils also sing the Te Deum. An order of service from Stonyhurst College website, which I'll give you a link to, explains that a Catholic bribed the executioner into selling the rope and that it was later presented to Father Robert Persons, who wore it around his waist for the rest of his life. The rope, along with a corporal used in the Tower by five martyred priests, is placed on the high altar of the chapel at the college on 1st December each year. https://association.stonyhurst.ac.uk/wp-content/uploads/2020/11/Campion-Mass-Booklet-2020.pdf
In the order of service is this quote from Campion's "Challenge to the Privy Council": "And touching our Society, be it known to you that we have made a league - all the Jesuits in the world, whose succession and multitude must overreach all the practices of England - cheerfully to carry the cross you shall lay upon us, and never to despair your recovery, while we have a man left to enjoy your Tyburn, or to be racked with your torments, or consumed with your prisons. The expense is reckoned, the enterprise is begun; it is of God, it cannot be withstood. So the Faith was planted: so it must be restored."
If you want to know more about the Catholics who suffered during Elizabeth's reign and those that risked their lives sheltering them, then do read Jessie Childs' "God's Traitors".
Here's a video on Alexander Briant who was executed along with Campion:
Image: Engraving of St Edmund Campion, and, yes, that is a knife in his chest!