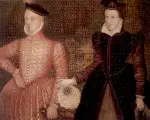 On Sunday 29th July 1565, twenty-three-year-old Mary, Queen of Scots, married nineteen-year-old Henry Stuart, Lord Darnley.
Mary, Queen of Scots, was queen regnant of Scotland and was the daughter of James V of Scotland (son of James IV and Margaret Tudor) and Mary of Guise. She had become queen when she was just six days old. The bridegroom was the son of Matthew Stuart, the 4th Earl of Lennox and Margaret Douglas (daughter of Margaret Tudor, Henry VIII's sister). Mary and Darnley were related; they were half-cousins.
The banns for the marriage had been read in St Giles's Cathedral, High Kirk of Edinburgh, on Sunday 22nd July and in that afternoon Darnley was made Duke of Albany. On Saturday 28th July, heralds proclaimed the forthcoming marriage of Mary and Darnley at the Market Cross in Edinburgh and proclaimed that Darnley would be made king following the wedding.
[Read More...]