Mary, Queen of Scots, lost her life on 8 February 1587. She was not buried for almost a full five months, finally being laid to rest on 5 August 1587 in Peterborough Cathedral. Peterborough Cathedral already had one queen buried there, namely Katharine of Aragon, buried in 1536.
Peterborough Cathedral has an impressive history beginning in 655 BCE when the site was home to a monastery. During the years surrounding 1116, the bulk of the Anglo-Saxon Chronicle was written at Peterborough. Skipping ahead to 1530, Cardinal Wolsey celebrated Easter at Peterborough after he was sent into exile by Henry VIII. In 1536, Katharine of Aragon was buried at Peterborough. Mary, Queen of Scots, was buried at the cathedral, as mentioned above, as it was close to Fotheringhay Castle, where Queen Mary was beheaded.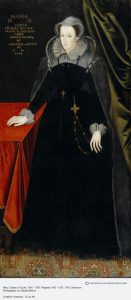 When Mary's son, James VI, became James I of England in 1603, he did not immediately take action to move his mother. However, James did encourage rehabilitating his mother's reputation via that favourite device of Tudor propaganda, portraiture. James was descended from the Tudors - his great-grandmother was Margaret Tudor, and his great-great-grandfather was Henry VII. A well-recognized portrait of Mary, Queen of Scots, was painted between 1610-1615. The portrait is held by the National Galleries of Scotland, and depicts Mary wearing a black gown and white veil; perhaps an allusion to what she wore on the day of her death. A rosary dangles from Mary's waist. The rosary makes a quiet political declaration, in that it features a depiction of Susanna with the Elders; Susanna was blackmailed by two elders who saw her bathing. If she did not agree to relations with them, she would be put to death. It was later discovered that the elders were lying, and so Susanna was allowed to live. This allegory of virtue seems to speak to James's desire, or at least, the patron's desire, to show that Mary was free of any wrongdoing that led to her death.
By 1612, James had a marble tomb created for his mother in the Lady Chapel of Westminster Abbey. Her body was exhumed and moved from Peterborough to Westminster Abbey in October 1612. Today, there hangs a flag of Scotland in Peterborough Cathedral where Mary's tomb used to be. Her tomb in Westminster Abbey is striking. The nearby shared tomb of Mary I and Elizabeth I almost pales in comparison to the sheer magnificence and care put into Mary's tomb. Mary's effigy is atop the tomb, and very lengthy inscriptions in Latin can be found on the tomb.* Certain excerpts from the inscription show an attempt to rehabilitate Mary's legacy:
[...] sure and certain heiress to the crown of England while she lived: mother of James, most puissant sovereign of Great Britain…after she had been detained in custody for more or less twenty years, and had courageously and vigorously, (but vainly), fought against the obloquies of her foes, the mistrust of the faint-hearted, and the crafty devices of her mortal enemies, she was at last struck down by the axe (an unheard-of precedent, outrageous to royalty)… to James her son the hope of a kingdom and posterity, and to all who witnessed her unhappy murder an ensample of endurance….

Mistress of Scotland by law, of France by marriage, of England by expectation, thus blest, by a three-fold right, with a three-fold crown; happy, ah, only too happy, had she routed the tumult of war, and, even at a late hour, won over the neighbouring forces… here lies buried the daughter, bride and mother of kings. God grant that her sons, and all who are descended from her, may hereafter behold the cloudless days of eternity….
Mary's much taller tomb is just the across the way from that of Elizabeth I and Mary I of England. Perhaps by making such a statement with his mother's tomb, James I and VI was taking further steps to redeem Mary, Queen of Scot's public image. She was no longer the ever-present threat to stability and the monarch of England, but rather the parent of the monarch and the person responsible for the unity of Scotland and England.
Heather R. Darsie lives in the United States with her family and three parrots. She works in the legal field, with a focus on children. She obtained a Bachelor of Arts degree in German Languages and Literature, then a Juris Doctorate in American jurisprudence, and studied abroad in Costa Rica and France. Heather has always loved history. She first became acquainted with Elizabeth I when she was in middle school and chose to write a book report about her. Since then, she has always held an interest in the Renaissance and its numerous enigmatic citizens, with particular focus on the history of England and Italy. She is currently working on a book on the heraldry of Tudor women and is also researching Anne of Cleves.
Sources and Suggested Reading
* Please visit http://www.westminster-abbey.org/our-history/royals/mary-queen-of-scots for the inscriptions. They are voluminous, compared to what is written on Elizabeth I's tomb.

Pictures: 1) A copy of the effigy on Mary's tomb in Westminster Abbey, London. National Museum of Scotland exhibit, photo by Kim Traynor, Geograph.org.uk. You can see photos of Mary's tomb in Westminster Abbey at http://www.westminster-abbey.org/our-history/royals/mary-queen-of-scots. 2) Mary, Queen of Scots, National Galleries of Scotland.

Thank you to regular contributor Heather R. Darsie for writing this article on the tomb of Mary, Queen of Scots.