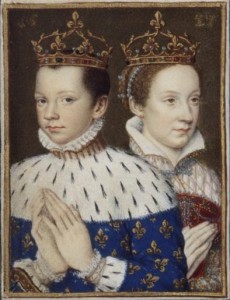 On this day in history, Tuesday 19th April 1558, fifteen-year-old Mary, Queen of Scots, became betrothed to fourteen-year-old Francis, the dauphin of France, the future Francis II.
John Guy, in his excellent biography of Mary, My Heart is My Own, writes of how the betrothal was a public ceremony held in the great hall of the Louvre Palace in Paris. Charles, Cardinal of Lorraine, joined the couple's hands and Mary and Francis plighted their troths and exchanged a ring. The betrothal was not a long one, Mary and Francis married just five days later, on 24th April, at Notre Dame Cathedral.
In his book Martyrs and Murderers: The Guise Family and the Making of Europe, Stuart Carroll, writes of the contrast between Mary and Francis, both in appearance and personality:
"The contrast between the two was stark. Aged 15, Mary was distinctively a Guise; she was tall at around 5 feet 11 inches and had blond hair. She was vivacious and had received the same humanist education as her future husband [...] A year younger than his bride, Francis profited little from his education, showing an interest only in hunting [...] The trouble with the dauphin was that as he reached adolescence his physical and mental capacities halted abruptly. He was weedy, intellectually limited, and debilitated by frequent attacks of illness."
Francis became king on 10th July 1559 after his father Henry II was killed in a jousting tournament. Francis, himself, died after only 17 months as king, dying on 5th December 1560 in Orléans from some type of ear infection. Mary returned to Scotland in August 1561. You can read more about her on our Mary, Queen of Scots page.