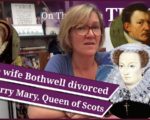 On 7th May 1567, eight days before James Hepburn, Earl of Bothwell, married Mary, Queen of Scots, the Catholic court granted him a divorce from his wife, Lady Jean Gordon.
Who was Jean Gordon? Why did Bothwell divorce her? And what happened to Jean afterwards?
Find out more about Bothwell and Jean's marriage, and about Jean's life, in today's talk.
[Read More...]