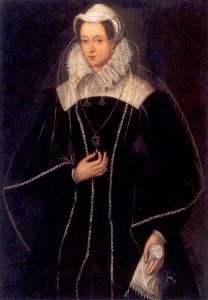 On this day in history, 1st February 1587, Elizabeth I called her secretary, William Davison, to her and asked him to bring her Mary, Queen of Scots's death warrant. She then signed it.
Mary, Queen of Scots, had been tried in October 1586 for her involvement in the Babington Plot, a plot to assassinate Queen Elizabeth I. As the trial closed, Mary demanded that she should be heard in front of Parliament or the Queen, but she was fighting a losing battle. Sentence was delayed as long as possible, by order of Elizabeth, but on 25th October the commission reconvened and found Mary guilty. On 29th October, Parliament met to discuss Mary, the Babington Plot and her role in Lord Darnley's murder, and it was decided that they should petition Elizabeth to execute Mary. This put Elizabeth in a difficult position as she did not want to be accused of regicide. On the 4th December, Mary was publicly proclaimed guilty.
On 1st February 1587, Elizabeth called her secretary, William Davison, asking him to bring Mary's execution warrant to her to sign. Elizabeth signed it but told Davison to ask her spymaster Sir Francis Walsingham to write to Sir Amyas Paulet, Mary's gaoler, in his own name, asking him to kill Mary. This would enable Elizabeth to be rid of her nemesis without taking any responsibility for it, instead Paulet would be acting privately under the Bond of Association. John Guy describes the Bond of Association as "a licence to kill". Anyone signing the Bond, which was drawn up by Cecil and Walsingham in 1584 after the 1583 Throckmorton plot, was swearing to "pursue as well by force of arms as by all other means of revenge" anyone plotting to cause harm to the Queen. Paulet was understandably horrified, protesting that "God forbid that I should make so foul a shipwreck of my conscience." Meanwhile, Sir William Cecil called a secret meeting of Elizabeth's Privy Council which agreed to send the signed warrant to Fotheringhay. Cecil appointed the Earls of Shrewsbury and Kent to direct the execution and the council agreed to keep Elizabeth in the dark until the deed was done.
On 8th February 1587 Mary Queen of Scots was executed at Fotheringhay Castle. Although Elizabeth was furious with her Council, so much so that Cecil fled to his home and Davison was thrown into the Tower, John Guy points out that whatever happened to Mary, whether she was assassinated or executed, Elizabeth could deny any responsibility: "She had carefully contrived things so that she would win whatever happened. If Mary was killed under the Bond of Association, Elizabeth could disclaim responsibility. If Cecil covertly sealed the warrant and sent it to Fotheringhay behind her back, she could claim she had been the victim of a court conspiracy."
Notes and Sources
Guy, John (2004) My Heart is My Own: The Life of Mary Queen of Scots, Harper Perennial, p. 474-497.