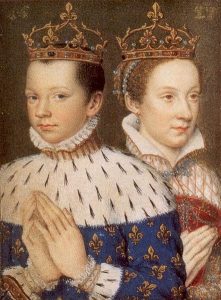 On this day in history, 24th April 1558, Mary, Queen of Scots, married Francis, the Dauphin of France, at Notre Dame in Paris. Mary was fifteen, and Francis was fourteen.
In his book The Book of the Ladies (Illustrious Dames), Pierre de Bourdeille, seigneur de Brantôme, wrote of their marriage:
"This lady and princess pleased France so much that King Henri was urged to give her in alliance to the dauphin, his beloved son, who, for his part, was madly in love with her. The marriage was therefore solemnly celebrated in the great church and the palace of Paris; where we saw this queen appear more beauteous than a goddess from the skies, whether in the morning, going to her espousals in noble majesty, or leading, after dinner, at the ball, or advancing in the evening with modest steps to offer and perform her vows to Hymen; so that the voice of all as one man resounded and proclaimed throughout the Court and the great city that happy a hundredfold was he, the prince, thus joined to such a princess; and even if Scotland were a thing of price its queen out-valued it; for had she neither crown nor sceptre, her person and her glorious beauty were worth a kingdom; therefore, being a queen, she brought to France and to her husband a double fortune.
This was what the world went saying of her; and for this reason she was called queen-dauphine and her husband the king-dauphin, they living together in great love and pleasant concord."
In her book Lives of the Queens of Scotland and English Princesses..., Agnes Strickland gives an account of the marriage, drawing on French contemporary sources. You can read this at https://archive.org/stream/bub_gb_4BCQDo3_hp8C#page/n93/mode/2up, p. 77 onwards, but here is an extract regarding Mary and what she wore:
"The costume of a maiden monarch on her bridal day must always be a matter of interest to the feminine portion of our readers; that of Mary Stuart, at her marriage to the heir of France, has never before been described in any of her numerous histories, " She was dressed," says the official chronicler of the Hotel de Ville, " in a robe whiter than the lily, but so glorious in its fashion and decorations that it would be difficult, nay, impossible, for any pen to do justice to its details. Her regal mantle and train were of a bluish grey cut velvet, richly embroidered with white silk and pearls. It. was of a marvellous length, full six toises, covered with precious stones, and was supported by young ladies." Her Scotch Maries, doubtless, were entitled to that honour; but neither they, nor the commissioners for the marriage, who were present as representatives of the three Estates of Scotland, are mentioned in our contemporary French authorities. The Estates of Scotland had positively refused to allow their regalia to be carried over to France, to decorate their young liege Lady and her consort at the nuptial solemnity. Yet Mary, to denote her rank as a Sovereign Queen, wore a crown-royal on this occasion — a crown far more costly than any previous Scottish monarch could ever boast. It was probably made expressly for her, at the expense either of the King of France or her wealthy uncle the Cardinal de Lorraine, and is described in the Rouen contemporary record of the ceremonial as being composed of the finest gold, and most exquisite workmanship, set with diamonds, pearls, rubies, and emeralds of inestimable worth — having in the centre a pendant carbuncle, the value of which was computed at five hundred thousand crowns. About her neck hung a matchless jewel, suspended by chains of precious stones, which, from its description, must have been no other than that well known in Scottish records by the familiar name of the Great Harry. This was not one of the crown jewels, but her own personal property, having been derived from her royal English great-grandfather, Henry VII., by whom it was presented to her grandmother, Queen Margaret Tudor."
Strickland's account of the wedding and banquet is well worth a read as it is detailed and also referenced.
Mary's husband became King Francis II of France on 10th July 1559 following the death of his father, Henry II, after splinters entered his eye in a jousting accident. Unfortunately, Francis died of complications from an ear infection on 5th December 1560. Charles IX, Francis's younger brother, then became king with his mother, Catherine de' Medici as regent. Mary returned to Scotland, arriving there in August 1561. You can read a bio of Mary on our Mary, Queen of Scots page.
Notes and Sources
Brantôme, Pierre de Bourdeille, seigneur de (1899) The Book of the Ladies (Illustrious Dames), translated by Katharine Prescott Wormeley, Hardy, Pratt & Company, p. 92-93.
Strickland, Agnes (1852) Lives of the Queens of Scotland and English Princesses Connected with the Regal Succession of Great Britain Vol. III, W. Blackwood and sons, p. 77-91.