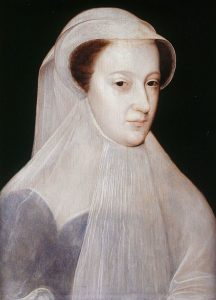 On this day in history, 11th September 1561, eighteen-year-old Mary, Queen of Scots, began her first royal progress. It was to last until 29th September and was the first of nine royal progresses that Mary undertook before she fled to England in 1568.
On this progress, Mary visited Holyrood Palace, Edinburgh Castle, Linlithgow Palace, Stirling Castle, Kincardine Castle, Leslie Castle, Perth, Dundee, St Andrews, Cupar and Falkland Palace.
Mary had only returned to Scotland from France, where she had lived since 1548, on 19th August. In the Appendix of Letters of Mary, Queen of Scots: And Documents Connected with Her, Volume 2, Agnes Strickland writes that Mary had no wheel-carriage for her progress and so set off on horseback. Mary's biographer John Guy writes of the reasons for this progress so soon after Mary's return:
"She wanted to see more of her country and her people, and to show herself to them. Far from being homesick for France, she seems to have felt that she had at last stepped into her proper place."
Guy writes that Mary stayed at Linlithgow Palace, where she had been born in December 1542, for two days before moving on to Stirling. According to Thomas Randolph, Elizabeth I's ambassador, on 24th September at Stirling Castle, Mary nearly suffocated:
"At Stirling, the queen, lying in her bed, having a candle burning by her, being asleep, the curtains and tester took fire, and so was like to have smothered her as she lay."
There was also trouble at Stirling when, on Sunday 14th September, Mary and her "devout chaplains" wanted to celebrate the Mass. They were turned away by the Earl of Argyle and Lord James (Mary's half-brother, James Stewart, 1st Earl of Moray). Randolph recorded that the two men "so disturbed the quire that some, both priests and clerks, left their places with broken heads and bloody ears."
Mary then travelled on to Perth, then on to Dundee, St Andrews and back to Holyrood.
Notes and Sources
Photos of places, Wikipedia.
Portrait of Mary, Queen of Scots, in mourning by François Clouet.
Ridgway, Claire (2012) On This Day in Tudor History, MadeGlobal Publishing.
Letters of Mary , Queen of Scots: And Documents Connected with Her Personal History, Volume 2, Henry Coburn Publisher, 1842, Appendix.
Guy, John (2004) My Heart is My Own: The Life of Mary, Queen of Scots, Harper Perennial, p. 143.