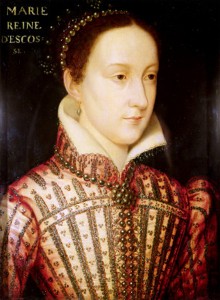 On 24th July 1567, Mary, Queen of Scots, who was imprisoned at Lochleven Castle and who had recently suffered a miscarriage, was forced to abdicate. The Scottish crown was passed on to her one year-old son, James, who became James VI of Scotland, with his uncle, Mary's illegitimate half brother, James Stewart, Earl of Moray, acting as regent.
Claude Nau de la Boisseliere, Mary's private secretary, recorded this event in his memoirs, which were translated from French into English as The History of Mary Stewart: From the Murder of Riccio Until Her Flight Into England:
"On the afternoon of the ... day of ... 1567, the Lords Lindsay and Ruthven, accompanied by two notaries and the said Melvil, came into the queen's chamber. She was lying on her bed, in a state of very great weakness, partly by reason of her extreme trouble (partly in consequence of a great flux, the result of a miscarriage of twins, her issue by Bothwell), so that she could move only with great difficulty. With extreme audacity and anger Lindsay gave her to understand of the commission with which he was charged by the nobility, namely, to make her sign certain letters for the resignation of the crown; which he required her to be pleased to read. Although she had already been assured by Melvil, in the name of the nobles mentioned above, that she need make no difficulty, she plainly refused to do so; she could not in conscience (her heart telling her that she was innocent) prejudice her honour by sanctioning such an unjust statement. At the same time she knew that her life was in great and immediate danger. And of a truth it was the intention of the rebels, if she did not sign these letters, to take her from Lochleven, and as they were crossing the lake to throw her into it, or secretly to
convey her to some island in the middle of the sea, there to be kept unknown to the whole world, in close custody for the remainder of her life. Lindsay confirmed this; for, as soon as he saw that her Majesty resolutely refused to sign these letters, he told her to rise from bed, and that he had charge to carry her to a place where he would give a good account of her to the lords of the country. Several times he advised her to sign, for if she did not, she would compel them to cut her throat, however unwilling they might be.
This poor princess, seeing herself thus treated by her own subjects, and being without any of her domestics (for the two femmes-de-chamhre, whom only she had with her, had been turned out), asked where she was to be taken. She demanded very earnestly to be admitted
before the estates of the country and the parliament to answer to the points mentioned in these letters. Lindsay replied that he had no instructions on these heads, and could say nothing more. Thus, without any form of legal proceeding or knowledge of the cause, they compelled her Majesty by threats and present violence to sign these instruments, which they caused to be read by the said notaries. When they asked her what she thought of the matter, she answered several times that she did not consent to the contents of these instruments,
that she had signed them in direct opposition to her intention and will, and that they had been extorted from her by force and constraint. She protested, therefore, that she would observe and keep them no longer than during her imprisonment, and she frequently asked those who were present to be her witnesses."
Mary signed the deeds, in the hope that they would be found invalid because they were signed under duress, but it was the end of her reign, and her son was crowned on 29th July at the Church of the Holy Rude, Stirling.
Nau goes on to write that after Mary had signed the papers "she was taken (with great altercation on both sides) into a great gloomy tower in Lochleven. She was there shut up, within an iron gate, in such a miserable condition, that no poor criminal could be treated worse." He also claims that she was deprived of ink, paper and books, and that attempts were made to poison her.
The English translation of Nau's memoirs can be read on archive.org - https://archive.org/stream/historymarystew00naugoog#page/n6/mode/2up, see pages 59-62 for the part about Mary's abdication.