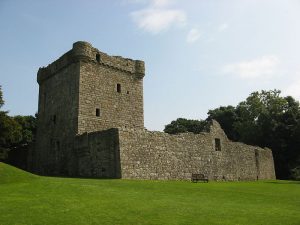 On this day in history, 17th June 1567, Mary, Queen of Scots, was imprisoned at Loch Leven Castle following her surrender to the Protestant nobles at the Battle of Carberry Hill on 15th June. It was there at Lochleven that she is said to have miscarried twins fathered by James Hepburn, 4th Earl of Bothwell, a man who had been linked to the murder of Mary's second husband, Henry Stuart, Lord Darnley.
On the 24th July 1567 she was forced to abdicate, and her son became James VI of Scotland with Mary's illegitimate half brother, James Stewart, Earl of Moray, acting as Regent.
Mary attempted to escape from the castle in March 1568, disguised as a laundress, but was, unfortunately, recognised by the boatmen taking her across the loch and so was returned to her prison. Her next attempt, on 2nd May 1568, was successful. This time, she was helped by sixteen-year-old Willie Douglas, a page in the castle. He sabotaged all the boats at the jetty except one and signalled to Mary, who had swapped clothes with her lady, Mary Seton, when the coast was clear and everyone was busy with May Day festivities. Willie rowed Mary across the loch where they were met by George Douglas, younger brother of the Laird of Lochleven and a man who had been determined to help the queen after witnessing her forced abdication.
Mary and her supporters suffered a crushing defeat at the Battle of Langside on 13th May 1568 and Mary fled to England. She landed near Workington in Cumberland on the evening of 16th May and was placed in protective custody in Carlisle Castle under the orders of Elizabeth I. Little did she know that she was to spend the rest of her life as Elizabeth's prisoner in England and that her life would end on the block on 8th February 1587.
More on Mary, Queen of Scots:
The best book I've ever read on Mary, Queen of Scots, is John Guy's My Heart is My Own: The Life of Mary Queen of Scots. It is highly readable, very detailed and very well-referenced.
Also on this day in history, 17th June 1497, the Battle of Blackheath, the battle which brought the Cornish Rebellion to an end.
Picture: Lochleven Castle, West Wall, by Jonathan Oldenbuck.