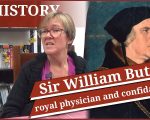 On this day in Tudor history, 22nd November 1545, Henry VIII's trusted physician and confidant, Sir William Butts, died after suffering from a "dooble febre quartanz", a form of malaria.
Sir William Butts was the doctor who was sent to treat Anne Boleyn, when she was ill with sweating sickness, and also advised on Princess Mary's sickness, and was the man King Henry VIII confided in about his problems consummating his marriage to Anne of Cleves. He was obviously a man the king could trust.
Find out more about this Tudor physician in today's talk, with help from Teasel the dog.
[Read More...]