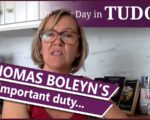 On this day in Tudor history, on 8th July 1503, during the reign of King Henry VII, Thomas Boleyn, father of Anne Boleyn, left Collyweston in Northamptonshire to undertake an important job for the king.
He was to be part of a retinue escorting King Henry VII's eldest daughter, Margaret Tudor, to Scotland, for her marriage to King James IV.
Find out more about the retinue and journey in today's talk.
[Read More...]