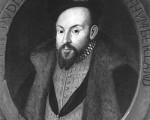 On this day in history…
17th July:
1497 – Death of Sir James Ormond (Butler), administrator and illegitimate son of John Butler, 6th Earl of Ormond, in a duel with Sir Piers Butler, near Kilkenny. The Butlers of Ormond were related to Thomas Boleyn, Queen Anne Boleyn's father.
1537 – Burning of Janet Douglas, Lady Glamis, on the castle hill at Edinburgh after being found guilty of two counts of treason. She had been charged with plotting the King's death (by poison) and assisting and corresponding with her brothers, Sir George Douglas and Archibald Douglas, 6th Earl of Angus.
1555 – Protestant martyrs Christopher Wade (Waid) of Dartford, linen-weaver, and Margaret Polley of Tunbridge, were burned for heresy. Click here to read more.
1555 – Birth of Richard Carew, antiquary, bee-keeper, translator and poet, at Antony House, Torpoint, Cornwall. Carew was the eldest son of Thomas Carew and his wife Elizabeth (née Edgcumbe). Carew was a member of the Elizabethan Society of Antiquaries, and his works included his "Survey of Cornwall", a county history.
1565 – Death of Sir Thomas Dacre of Lanercost, illegitimate son of Thomas Dacre, 2nd Baron Dacre. He died while holding the office of Sheriff of Cumberland.
1601 – Death of Richard Latewar, poet, theologian, Vice-President of St John's College, Oxford, and chaplain to Charles Blount, 8th Baron Mountjoy. He died from a gunshot wound sustained in a skirmish at Bennurb, in Ireland, while on a campaign there with Mountjoy. Latewar was buried at Armagh Cathedral, and a monument was erected to him in the chapel of St John's in Oxford.
[Read More...]