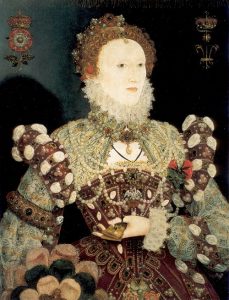 The Northern Rebellion of 1569, also known as the Revolt of the Northern Earls or Rising of the North, was the only major armed rebellion during the reign of Elizabeth I.
In the last months of 1569, the earls of Northumberland and Westmorland rebelled against the queen in an attempt to preserve Catholicism. The establishment of the Elizabethan settlement alienated those who favoured the old religion, and their disaffection increased as growing numbers were arrested and imprisoned for religious nonconformity. This disaffection was spurred by the arrival in England of Mary, Queen of Scots, in 1568, the year before the rebellion. Mary had been forced from her throne after the murder of her second husband Henry, Lord Darnley, and her swift remarriage to Darnley's suspected murderer, James, Earl of Bothwell. Mary's Catholic faith made her a sympathetic figure to traditionalists in England. Although the majority of English Catholics remained loyal to Elizabeth, some were determined to force her from the throne and replace her with her cousin Mary, who they hoped would restore Catholicism to the realm.
Thomas and Anne Percy, the Earl and Countess of Northumberland, opposed the appointment of Protestants to several important offices in the north, and were joined by Charles Neville, Earl of Westmorland, who resented the activities of the Protestant Bishop Pilkington in Durham. Despite their grievances, however, the two earls were reluctant to openly rebel against the queen, and it is possible that they were forced into doing so when Elizabeth ordered them to court upon suspicions of their intentions. The queen had discovered that Thomas Howard, Duke of Norfolk, was planning to marry the Scottish queen, and predictably reacted with shock and fear. Concerned for their safety, the Earls of Northumberland and Westmorland decided to rebel against the crown. Durham Cathedral was stormed on 14 November, and Mass was celebrated. The rebels proclaimed their intent to restore 'ancient customs and liberties' to the Church. Their army numbered 6000 at its height; most of those involved appear to have been motivated by religious considerations. Most of the rebels came from County Durham and Yorkshire, and the majority were yeomen, husbandmen and tradesmen. Barnard Castle was later besieged, and Hartlepool was seized.
The rebels fled, however, when they learned that Elizabeth had raised an army of 14,000 men led by Lord Admiral Clinton and Ambrose Dudley, Earl of Warwick. Thomas Radcliffe, Earl of Sussex coordinated efforts against those involved in the uprising. On 16 December, the rebels fled north and arrived in Scotland a few days later. James Stewart, Earl of Moray, was granted the custody of the Earl of Northumberland. Some of the rebels later escaped abroad, including the Earl of Westmorland. Sussex led a series of raids across the border, eventually securing an agreement with a number of Scots in which they abandoned their ties with the English rebels. Northumberland remained in Scottish captivity for a while longer, although both his wife and the queen bargained to secure his release. He was eventually executed in York in August 1572, and was beatified by Pope Leo XIII in 1895. Roughly 600 rebels were executed in late 1569 and early 1570. As Krista Kesselring notes, it was 'the heaviest judicial death toll of any sixteenth-century English rebellion'. Goods were seized, and bells were removed from a number of northern churches. Shortly after the rebellion, the pope excommunicated Elizabeth, an act that intensified the growing association in England between treason and Catholicism.
Find out about other rebellions in our Battles and Rebellions section.
Written by Conor Byrne, author of Katherine Howard: A New History and Queenship in England: 1308–1485 Gender and Power in the Late Middle Ages. Conor is a British graduate with a degree in History from the University of Exeter. Conor has been fascinated by the Tudors, medieval and early modern history from the age of eleven, particularly the lives of European kings and queens. His research into Katherine Howard, fifth consort of Henry VIII of England, began in 2011-12, and his first extended essay on her, related to the subject of her downfall in 1541-2, was written for an Oxford University competition. Since then Conor has embarked on a full-length study of queen Katharine's career, encompassing original research and drawing on extended reading into sixteenth-century gender, sexuality and honour. Some of the conclusions reached are controversial and likely to spark considerable debate, but Conor hopes for a thorough reassessment of Katherine Howard's life. Conor runs a historical blog which explores a diverse range of historical topics and issues. He is also interested in modern European, Russian, and African history, and, more broadly, researches the lives of medieval queens, including current research into the defamed 'she-wolf' bride of Edward II, Isabella of France.
Conor is currently studying for a Masters.