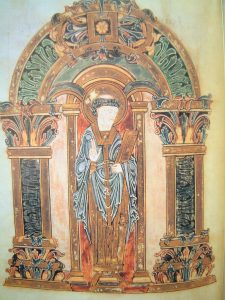 Happy St Swithin's Day! Yes, today, 15th July, is the feast day of St Swithin or Swithun. Here is an extract from our feast day section...
St Swithin's Day commemorates the 9th century Saxon bishop, Swithin, who was chaplain to Egbert, King of Wessex, and the patron saint of Winchester. One miracle associated with him is that of him mending broken eggs. According to the story, an old lady's eggs had been accidentally smashed by workmen working on a church. Swithin picked them up and as he did so they became whole eggs once again.
Swithin died on 2 July 862 but his feast day marks the day in 971 when his remains were moved from his grave just outside the west door of the Old Minster of Winchester to a shrine inside the cathedral. This day was marked by miraculous cures and so became his feast day. It was also, however, marked by torrential rain which lasted forty days and forty nights and which was taken as a sign of the saint's anger at the digging up of his remains when his wishes were that his remains should be buried outside the west door so that rain could fall on his grave and people would walk over it. This forty days of rain led to the following traditional rhyme:
St Swithin's day if thou dost rain
For forty days it will remain
St Swithin's day if thou be fair
For forty days 'twill rain na mair.
So remember to check the weather on St Swithin's Day!
If you believe in praying to saints, then in times of drought St Swithin is the saint to pray to.
Emblems associated with St Swithin are raindrops and apples. According to Charles Raymond Dillon, in his book Superstitions and Folk Remedies, apple growers hope for rain on St Swithin's Day or St Peter's Day (29th June) and see the rain as the saints watering the orchards. Another traditional belief is that rain at this time is St Swithin blessing and christening the apples. A tradition associated with St Swithin's Day is bobbing for apples.
There is also an "on this day in history event for 15th July. On this day in 1553, the royal ships guarding the Eastern coast for Queen Jane (Lady Jane Grey) swapped their allegiance to Queen Mary. Members can click here to read more about this.
Pictures: An illumination of St Swithin from the 10th-century manuscript "The Benedictional of St. Æthelwold"; St Swithun's Shrine, Winchester Cathedral, © Copyright Len Williams and licensed for reuse under this Creative Commons Licence, Geograph.org.uk.