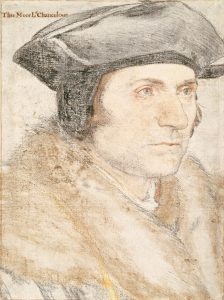 Sir Thomas More is thought to have been born on 7th February 1477 or 1478 n Milk Street, London, and he was the son of Sir John More, lawyer and judge on the King's Bench, and Agnes Graunger, daughter of Thomas Graunger, a Merchant of the Staple of Calais and an Alderman of London.
More joined the household of John Morton, Archbishop of Canterbury, before studying Latin and logic at the University of Oxford. He then studied law in London. It was while he was a student that he met and became friends with men like William Lilye, John Colet and Erasmus.
Between 1499 and 1503, More stayed at the Carthusian priory, London Charterhouse, while he considered joining the order. He also considered becoming a Franciscan monk, but decided to devote himself to the law after he realised that a life of celibacy did not suit him. More became a Member of Parliament in 1504, an Undersheriff of the City of London in 1510, a Master of Requests in 1514, one of the King's counsellors in 1517 and then a Privy Councillor in 1518.
In 1521, Thomas More was knighted and made Undertreasurer after proving himself by carrying out a diplomatic mission to Charles V with Cardinal Wolsey. He rose in influence as the King's personal secretary and adviser, became Speaker of the House of Commons in 1523, and then the High Steward of the Universities of Oxford and Cambridge. He was appointed the Chancellor of the Duchy of Lancaster in 1525. In 1529, More was made Lord Chancellor after the fall of Cardinal Thomas Wolsey.
More supported the Catholic Church, which he saw as the true faith, and campaigned against the Reformation and heresy. His actions against the Reformation included helping Cardinal Wolsey to prevent the importation of Lutheran books into England, producing scholarly works against Luther's writings and persecuting people whom he perceived as heretics. His non-religious scholarly work included History of King Richard III and Utopia.
He was a loyal servant of King Henry VIII, but ended up being executed as a traitor on 6th July 1535 after refusing to take the Oath of Succession. He believed that "no temporal man may be the head of spirituality", even his beloved King.
Tudor chronicler Edward Hall wrote of More's execution:
"When he came to the Scaffold, it seemed ready to fall, whereupon he said merrily to the Lieutenant, Pray, Sir, see me safe up; and as to my coming down, let me shift for myself. Being about to speak to the People, he was interrupted by the Sheriff, and thereupon he only desired the People to pray for him, and bear Witness he died in the Faith of the Catholic Church, a faithful Servant both to God and the King. Then kneeling, he repeated the Miserere Psalm with much Devotion; and, rising up the Executioner asked him Forgiveness. He kissed him, and said, Pick up thy Spirits, Man, and be not afraid to do thine Office; my Neck is very short, take heed therefore thou strike not awry for having thine Honesty. Laying his Head upon the Block, he bid the Executioner stay till he had put his Beard aside, for that had committed no Treason. Thus he suffered with much Cheerfulness; his Head was taken off at one Blow, and was placed upon London-Bridge, where, having continued for some Months, and being about to be thrown into the Thames to make room for others, his Daughter Margaret bought it, in closed it in a Leaden Box, and kept it for a Relique."
More is famous as St Thomas More, after being beatified in 1886 and canonised in 1935. His feast day is celebrated on 22nd June in the Roman Catholic Church and 6th July in the Anglican Church.
John Guy wrote an excellent article on him for History Today - Sir Thomas More and the Heretics and I'd also recommend John's book A Daughter's Love: Thomas More and His Dearest Meg.
Stephanie Mann, author of Supremacy and Survival: How Catholics Endured the English Reformation, gave an expert talk on Thomas More last year and here it is, in case you missed it.
The Life of Saint Thomas More:
The Trial of Sir Thomas More by David Starkey:
Thomas More's Magnificent Utopia - Dr Richard Serjeantson
Here is a video produced by Historic Royal Palaces as a teacher resource for Key Stages 2 and 3:
The Life of St Thomas More