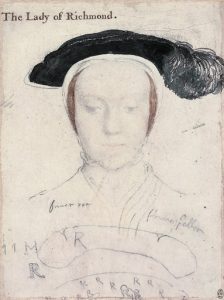 Born in 1519, Mary Howard was the daughter of Thomas Howard, third Duke of Norfolk. Her mother, Elizabeth, was the daughter of the disgraced Edward Stafford, Duke of Buckingham. Mary was highly educated, and spent the majority of her childhood at the family residences in Norfolk. As she entered her teenage years, Mary participated in ceremonies at court, including that of her kinswoman Anne Boleyn's elevation to the marquisate of Pembroke in September 1532. It is likely that Mary also attended Anne's coronation the following summer, and she carried the chrism at Princess Elizabeth's christening in September. She seems to have shared the queen's reformist sympathies and was rebuked by her brother for her love of reading the scriptures.
In November 1533, Mary was married at the age of fourteen to the king's bastard son Henry Fitzroy, Duke of Richmond and Somerset. Her father, the Duke of Norfolk, claimed that Henry VIII himself advocated the match, but his wife believed that Anne Boleyn had arranged it. The youth of the groom and bride – both were aged fourteen – prevented the marriage from being consummated. As the Duchess of Richmond, Mary was one of the most important women at court. During her residency at court, her literary interests developed and she contributed poetry to the Devonshire Manuscript, as did Mary Shelton and the king's niece Margaret Douglas. 1536 was an eventful year for Mary, because she witnessed the downfall of her kinswoman and mistress, Anne Boleyn, and her husband, Henry, died in the summer, leaving her a widow at seventeen.
After her husband's death, Mary retired to Kenninghall, one of the Howard residences. She found herself in a difficult situation because her erstwhile father-in-law Henry VIII refused to allow her to obtain her jointure. It is possible that the king's recalcitrance reflected the ambiguous standing of the Howards in 1536; not only had the queen been found guilty of treason, but Mary was among those suspected of assisting Margaret Douglas' clandestine liaison with Lord Thomas Howard. Mary only received grants three years later, and by 1540 she enjoyed a jointure worth over £700 per annum. That year, she was appointed to the household of her cousin Katherine Howard following the latter's marriage to Henry VIII.
Mary was never to remarry, but her father attempted to betroth her to Thomas Seymour, uncle of Prince Edward, the future Edward VI. Mary, however, was determined to achieve recognition of her status as a dowager duchess. Her brother Henry, Earl of Surrey, reportedly encouraged her to consider becoming Henry VIII's mistress, but she refused. This suggestion played a part in Surrey's downfall and execution in 1547, and Mary's father escaped execution only by virtue of Henry VIII's own death.
The dowager duchess's standing was uncertain during Edward VI's reign in spite of her reformist beliefs. She acted as patron to the evangelical authors John Foxe and John Bale. After the execution of her brother, she was responsible for the upbringing of his children. Mary probably died in 1557 and was buried beside her husband in St. Michael's Church in Framlingham, Suffolk.
Written by Conor Byrne, author of Katherine Howard: A New History and Queenship in England: 1308–1485 Gender and Power in the Late Middle Ages. Conor is a British graduate with a degree in History from the University of Exeter. Conor has been fascinated by the Tudors, medieval and early modern history from the age of eleven, particularly the lives of European kings and queens. His research into Katherine Howard, fifth consort of Henry VIII of England, began in 2011-12, and his first extended essay on her, related to the subject of her downfall in 1541-2, was written for an Oxford University competition. Since then Conor has embarked on a full-length study of Queen Katharine's career, encompassing original research and drawing on extended reading into sixteenth-century gender, sexuality and honour. Some of the conclusions reached are controversial and likely to spark considerable debate, but Conor hopes for a thorough reassessment of Katherine Howard's life. Conor runs a historical blog which explores a diverse range of historical topics and issues. He is also interested in modern European, Russian, and African history, and, more broadly, researches the lives of medieval queens, including current research into the defamed 'she-wolf' bride of Edward II, Isabella of France.
Conor is currently studying for a Masters.
Pictures: Sketch of Mary Howard by Hans Holbein the Younger; miniature of Henry Fitzroy by Lucas Horenbout.