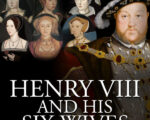 Historian Claire Ridgway's next online event, Henry VIII and His Six Wives, is open for registration with an early bird discount coupon!
Register now and join Claire, Dr Tracy Borman, Dr Linda Porter, Gareth Russell, Dr Owen Emmerson and Kate McCaffrey as they delve into the lives of this iconic king and his six queens consort.
Henry VIII and His Six Wives is a completely online event and its starts properly on 22nd May 2023. However, Claire is hosting zoom video calls twice a month leading up to the event so participants can get to know each other and talk Tudor. The zoom calls start on 12th February and the topic for discussion is Henry VIII in film and on TV.
[Read More...]