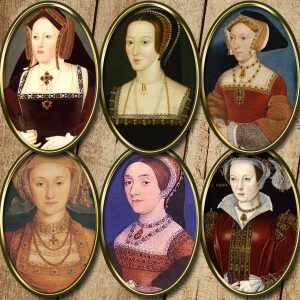 MedievalCourses.com has just launched a new course by Gareth Russell, editor of the Tudor Society's Tudor Life magazine and author of The Emperors: How Europe's Rulers Were Destroyed by the First World War, A History of the English Monarchy: From Boadicea to Elizabeth I and the forthcoming Young and Damned and Fair: The Life and Tragedy of Catherine Howard at the Court of Henry VIII.
Although I'm biased, being involved in MedievalCourse.com, I can hand-on-heart say that this is an excellent course. Gareth has done a brilliant job in creating and narrating each of the seven units and what I really love about this course is that he doesn't look at the same old topics regarding these wives, he "uses each wife to explore a different aspect of monarchy in Tudor England" and then finishes with a unit considering why these women remain so popular and how they have "been re-invented and revitalised by the age of Hollywood, television and best-selling novels". Bravo, Gareth, you've done a wonderful job!
There is a special introductory launch price for the course, you can get it for $20 instead of $30 if you use coupon code SIXWIVES. The coupon is valid until Monday 26th September 2016. Click here to go to the course page now for further details, including a run-down of each module, and to purchase.
Note: This is an online course of downloadable or streaming audio lectures which can be done in your own time and you have lifetime access to the course once you have signed up and paid. There is no set start or end date, you can do it at your own pace. The course includes audio lectures, PDF transcripts, a further reading list and end of course certificate.