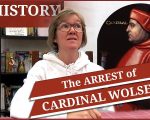 On this day in Tudor history, 4th November 1530, Cardinal Thomas Wolsey, Henry VIII's former Lord Chancellor, was arrested at his home of Cawood Castle in Yorkshire.
Wolsey was accused of high treason, but why? And what happened when his former servant, Henry Percy, Earl of Northumberland, arrived with orders to arrest him?
I explain all in today's talk, including how Wolsey 'cheated' the axeman.
[Read More...]