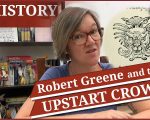 On this day in Tudor history, 3rd September 1592, in the reign of Queen Elizabeth I, Elizabethan writer and playwright Robert Greene died in London.
Greene was a prolific writer, but he is best known for a pamphlet "Greene's Groats-worth of Wit bought with a Million of Repentance" which it was claimed he wrote on his deathbed. It is an important work because it is the first known contemporary reference to William Shakespeare as a playwright, although the reference to Shakespeare is actually an attack on the actor/playwright, who Greene saw as an "upstart crow".
Find out more about the pamphlet and why Greene, or whoever wrote it, launched an attack of the Bard, in today's talk.
[Read More...]