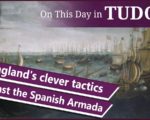 On this day in Tudor history, 29th July 1588, the English naval fleet attacked the Spanish Armada in a battle known as the Battle of Gravelines.
England defeated Spain and it was down to the new tactics they'd learned from previous encounters with the Armada and from capturing a Spanish ship, as well as weather conditions.
What were these new and successful tactics and what happened at the Battle of Gravelines?
[Read More...]