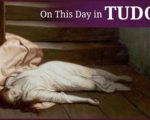 On this day in Tudor history, 22nd September 1560, Amy Dudley (née Robsart), wife of Robert Dudley, Earl of Leicester, was buried in the chancel of the University Church of St Mary the Virgin, Oxford.
Amy had been found dead at the foot of the stairs of her home and the subsequent inquest had ruled her death as caused by "misfortune". She was buried in a lavish ceremony which cost her widower over £2,000.
Find out more about her burial, and who attended, in today's talk.
[Read More...]