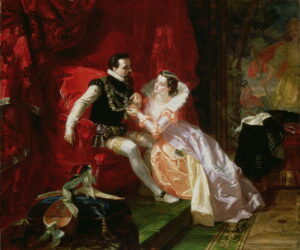 On this day in Tudor history, 4th June 1550, in the reign of King Edward VI, Robert Dudley married Amy Robsart.
Here are a few facts about Amy Robsart:
Amy was born on 7th June 1532.
She was the only child of Norfolk landowner Sir John Robsart.
It's thought she met Robert when the Dudleys stayed at the Robsart family home in Norfolk on their way to putting down Kett's Rebellion in 1549.
Robert and Amy's marriage was a love match.
Amy visited Robert when he was imprisoned in the Tower of London in 1553 after the fall of his sister-in-law, Lady Jane Grey.
Amy didn't accompany Robert to court after Elizabeth I's accession.
She was found dead at the bottom of stairs on 8th September 1560. Her death is surrounded by controversy.
Here's a video about their marriage:
You can read more about Amy Robsart's death at:
Also on this day in Tudor history...
Image: Leicester and Amy Robsart at Cumnor Hall (1866) by Edward Matthew Ward.