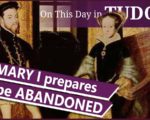 On this day in Tudor history, 26th August 1555, Queen Mary I and her husband, Philip of Spain, departed from Whitehall in preparation for Philip's return to the Low Countries.
This was an awful time for Mary I. She had just come out of confinement after months of believing she was pregnant, and now her husband was leaving her. He'd be gone for over 18 months.
Find out more about Mary's state of health and mind, the arrangements for Philip's departure, and Mary's reaction, in today's talk.
[Read More...]