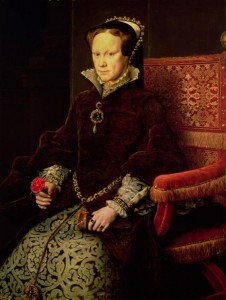 On this day in Tudor history, 20th January 1558, in the final year of Queen Mary I's reign, there was the state opening of Mary's fifth Parliament.
As Cedric Ward points out in his article "The House of Commons and the Marian Reaction", by this time, due to Mary's marriage to Philip of Spain, England was allied with Spain in its war against France so Parliamentary business focused on financial and military items.
This state opening is one of the only mentions of a public appearance by Mary following the second departure of her husband, Philip of Spain, in July 1557. She wasn't even interested in court entertainment such as masques and plays. Mary believed that she was pregnant, but she wasn't. In August 1558, the queen contracted a fever which she was able to fight off, but then was recorded as suffering from dropsy, or oedema. She died on 17th November 1558, while her fifth parliament was still in session.