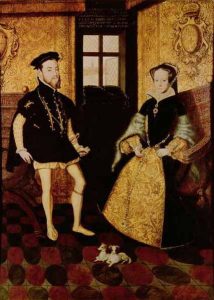 On this day in Tudor history, 3rd July 1557, Mary I bid farewell to her husband, Philip of Spain, at Dover as he set off for war with France.
Philip had only returned to England in March 1557 after an absence of over 18 months and he had only returned then, as historian Anna Whitelock points out, because he needed money and for England to declare war on France, which they did on 7th June 1557.
Mary never saw Philip again and this campaign also led to England losing Calais to the French. But the light in the darkness was that Mary believed that she had become pregnant during Philip's visit, the baby being due in April 1558. However, there was no baby and Mary died on 17th November 1558.
Also on this day in Tudor history...