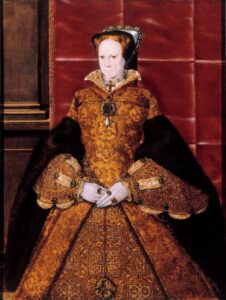 On this day in Tudor history, 7th July 1553, the day after the death of King Edward VI, his half-sister, Mary, received news of his death.
Mary, the daughter of Henry VIII by his first wife, Catherine of Aragon, had left Hunsdon on 3rd July after hearing that Edward was dying and that there was a plot against her. She set off for her estates in East Anglia, where she had support.
By 7th July, she had reached Lady Burgh's home of Euston Hall, near Thetford, and goldsmith Robert Reyns found her there. He had set off from London in a rush after hearing of Edward's death. Mary decided to leave immediately for her estate of Kenninghall in Norfolk, and the next day, 8th July, she proclaimed herself queen in front of her household.
Mary I was officially proclaimed queen in London on 19th July.
Find out more about the events of July 1553, from Edward VI's death to Mary's removal of Lady Jane Grey, in a video talk I did on the topic - click here.
Also on this day in Tudor history...