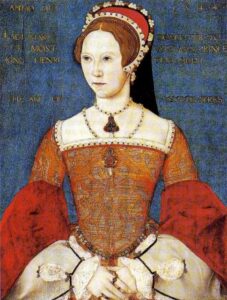 On this day in Tudor history, 8 June 1536, Henry VIII's eldest daughter, Mary, wrote to her father in hope of a reconciliation now that her stepmother, Anne Boleyn, was dead.
Mary had been out of favour due to her refusal to accept the annulment of her parents' marriage, her father's supremacy and her status as illegitimate. She believed that Anne Boleyn was solely to blame for her troubles, writing that she understood that the king had "forgiven all her offences and withdrawn his displeasure".
Unfortunately for Mary, she was very wrong. Henry VIII had not forgiven her, and, in fact, her treatment was just about to get worse - click here to read about the bullying she experienced. Her friend, the Spanish ambassador Eustace Chapuys, would even fear for her life.
Henry VIII was not interested in a reconciliation until Mary submitted and accepted his supremacy and her status, which she eventually did.
Also on this day in Tudor history...
Image: A portrait of Mary I from 1544 by Master John.