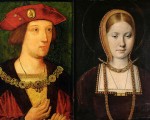 On this day in history…
13th November:
1536 – Murder of Robert Pakington, mercer and member of Parliament, at Cheapside, while making his way to mass at St Thomas of Acre Chapel.
1537 – Burial of Jane Seymour, Henry VIII's third wife, at St George's Chapel, Windsor Castle. Henry VIII's daughter, Mary, acted as chief mourner.
1553 – Lady Jane Grey, her husband Guildford Dudley, his brothers Ambrose and Henry, and Archbishop Thomas Cranmer were tried for treason at a public trial at London's Guildhall. They were all found guilty as charged, with the men being sentenced to being hanged, drawn and quartered, and Jane to be burned alive, or beheaded.
1601 – Burial of Lady Mary Ramsey (née Dale), famous philanthropist, at Christ Church in London.
1612 – Death of Sir George Carew, administrator, member of Parliament and diplomat, from typhus at his home in Tothill Street, Westminster, London. He was buried at St Margaret's Church, Westminster. Carew's served as secretary to Lord Chancellor Hatton and served Elizabeth I and James I as an ambassador.
[Read More...]