29 October
1532 – Henry VIII accompanied Francis I to the border between English Calais and France to bid farewell to him.
1586 – Four days after a commission had found Mary, Queen of Scots guilty of conspiring to assassinate Elizabeth I, Parliament met to discuss Mary's fate. They decided that they should petition the Queen for Mary's execution.
1605 – Death of George Clifford, 3rd Earl of Cumberland, courtier and naval commander, at the duchy house, near the Savoy in London. He was buried in the family vault in Holy Trinity Church, Skipton, near Skipton Castle. Clifford was Elizabeth I's second champion. He commanded a ship in the Anglo-Spanish War, and is known for capturing Fort San Felipe del Morro in San Juan, Puerto Rico, in 1598. Elizabeth I nicknamed him her "rogue".
1618 - Sir Walter Ralegh (Raleigh), courtier, explorer, author and soldier, was executed at Westminster. Ralegh had originally been found guilty of treason and sentenced to death in 1603, after being implicated in the Main Plot against James I, but the King spared his life. In 1618, the death sentence was reinstated after he incurred the wrath of Spain for storming San Thomé and killing the Spanish governor. Click here to read more about him.
30 October
1485 - The founder of the Tudor dynasty, Henry Tudor, was crowned King Henry VII at Westminster Abbey. Click here for more.
The Tudor chronicler, Raphael Holinshed, recorded:
"...with great pompe he rowed unto Westminster, & there the thirtith daie of October he was with all ceremonies accustomed, anointed, & crowned king, by the whole assent as well of the commons as of the nobilitie, & called Henrie the seaventh of that name..."
His biographer, Thomas Penn, describes how this was the occasion that Henry was united with his mother, Lady Margaret Beaufort, whom he'd not seen for fourteen years. Margaret was said to have "wept marvellously".
Henry Tudor had claimed the crown of England after defeating Richard III at the Battle of Bosworth Field on the 22nd August 1485, and had actually been unofficially crowned with Richard's crown on the battlefield that day.
31 October
1494 – Henry VII's son, Henry (the future Henry VIII), was created Duke of York.
1517 – Martin Luther wrote to Albert, Archbishop of Mainz, and the Bishop of Brandenburg protesting against the sale of indulgences and sending them a copy of The Ninety-Five Theses (proper title: Disputation of Martin Luther on the Power and Efficacy of Indulgences).
According to Philipp Melancthon, "Luther, burning with passion and just devoutness, posted the Ninety-Five Theses at the Castle Church in Wittenberg, Germany at All Saints Eve, October 31", rather than sending them in a letter, but no other contemporary source supports this.
1537 – Death of Lord Thomas Howard, second son of Thomas Howard, 2nd Duke of Norfolk, and his second wife, Agnes Tilney, in the Tower of London. He was buried at Thetford Abbey. Howard had been imprisoned in 1536 after becoming betrothed to Lady Margaret Douglas, the King's niece, without the King's permission.
1557 – Death of Sir Nicholas Hare, lawyer, Speaker of the House of Commons and Master of the Rolls. He was buried in Temple Church, London. Hare is known for presiding over the trial of Sir Nicholas Throckmorton for high treason, after Wyatt's Rebellion, and actually arguing with the accused. Throckmorton stated that it was Hare who had influenced his dislike of the proposed marriage between Mary I and Philip of Spain, and Hare reacted by refusing to examine one of the witnesses. Throckmorton was acquitted.
1612 – Death of Sir Christopher Yelverton, judge and Speaker of the House of Commons, at the age of seventy-five. He was buried at Easton Maudit Church.
1 November
1456 - Edmund Tudor, 1st Earl of Richmond, died from the plague at Carmarthen Castle. Edmund was the son of Owen Tudor and Catherine of Valois, and the father of Henry VII. He was buried at the monastery of Greyfriars in Carmarthen, but was moved to St Davids Cathedral on the orders of his grandson, Henry VIII, after the dissolution of the monastery.
1527 – Birth of William Brooke, 10th Baron Cobham, courtier and diplomat. He was the son of George Brooke, 9th Baron Cobham, and his wife, Anne (née Bray). Cobham was a close friend of William Cecil, and so became powerful in Elizabeth I's reign. He served as Lord Warden of the Cinque Ports, Privy Councillor and Lord Chamberlain. Cobham also undertook diplomatic missions.
1530 – Henry VIII sent Sir Walter Walsh (some say William Walsh) with Henry Percy, Earl of Northumberland, to Cawood Castle to arrest Cardinal Thomas Wolsey for high treason. They arrived on 4th November and took him into custody.
1558 – Death of Michael Throckmorton, agent for Cardinal Reginald Pole, probably at Mantua in Italy. He studied law in Italy, in Padua, in 1533 before becoming Pole's secretary. It is thought that he may well have been the agent who took Pole's Pro ecclesiasticae unitatis defensione to Henry VIII in 1536.
2 November
All Souls' Day - a day to remember and pray for the dead.
1470 – Birth of Edward V, son of Edward IV and Elizabeth Woodville, in Westminster Abbey sanctuary during his father's exile. He was baptised there. In June 1471, his father made him Prince of Wales and Earl of Chester. His father died in April 1483, making Edward King Edward V, but his uncle, Richard, Duke of Gloucester, claimed the throne as Richard III. Edward and his brother, Richard, Duke of York, disappeared and their fate is unknown. They became known as the Princes in the Tower, and there is still controversy today over what happened to them.
1541 - Henry VIII attended All Souls' mass and found a letter left for him by Archbishop Cranmer. It detailed Catherine Howard's colourful past, and how she had "lived most corruptly and sensually".
1581 – Death of Gilbert Berkeley, Bishop of Bath and Wells, at Wells. He was buried at the cathedral and his tomb chest can still be seen today, in the aisle of the north chancel.
3 November
1568 – Death of Nicholas Carr, physician, classical scholar and Regius professor of Greek at Cambridge. He was laid to rest in St Michael's Church, Cambridge, and a monument was erected in his memory at St Giles's Church. His works included De Scriptorum Britannicorum Paucitate et Studiorum Impedimentis Oratio, Epistola de morte Buceri ad Johannem Checum, Eusebii Pamphili de vita Constantini and Demosthenis Graecorum Oratorum Principis Olynthiacae orationes tres, et Philippicae quatuor, e Greco in Latinum conversae.
1592 - Death of Sir John Perrot, Privy Councillor and former Lord Deputy of Ireland, at the Tower of London. He died a destitute, convicted traitor. Some believe him to have been the illegitimate son of Henry VIII. He was buried in the Chapel of St Peter ad Vincula at the Tower.
4 November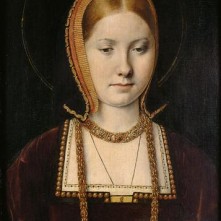 1501 – Catherine of Aragon met Arthur, Prince of Wales, for the first time at Dogmersfield in Hampshire. They married ten days later at St Paul's.
1530 – William (some say Walter) Walsh and Henry Percy, Earl of Northumberland, arrived at Cawood Castle and arrested Cardinal Thomas Wolsey for high treason.
1538 - Henry Pole, 1st Baron Montagu, was arrested for treason along with his brother-in-law, Sir Edward Neville; Henry Courtenay, Marquis of Exeter, and Courtenay's family (wife Gertrude Blount and son Edward Courtenay). The three men were accused of conspiring against the King, seeking to deprive the King of his title of supreme head of the church and plotting with Cardinal Reginald Pole, the exiled brother of Montagu.
1551 – Date given in the epitaph of John Redman, theologian and first Master of Trinity College, Cambridge. He died of consumption and was buried at Westminster Abbey, in the north transept. Redman's works included De justificatione, which he presented to Henry VIII in 1543, and "A Necessary Doctrine and Erudition for any Christian Man".