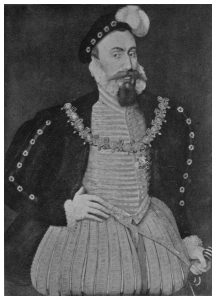 Henry Grey was born on 17th January 1517 at Bradgate in Leicestershire. He was the eldest son of Thomas Grey, 2nd Marquess of Dorset, and the marquess's second wife, Margaret Wotton, who was the widow of William Medley. Henry's father was the grandson of Sir John Grey of Groby, Leicestershire, and Elizabeth Woodville, who went on to marry King Edward IV.
After his father's death in 1530, thirteen-year-old Henry became Marquess of Dorset and also the ward of Charles Brandon, Duke of Suffolk and a close friend of King Henry VIII. Henry had been betrothed to Katherine Fitzalan, daughter of the Earl of Arundel, but in May 1533 Henry married Frances Brandon, daughter of Suffolk by his first wife, Mary Tudor, Queen of France. Frances' mother died in June 1533 and her father went on to marry his other ward, Katherine Willoughby, in September 1533. Suffolk supported Henry and Frances financially until Henry reached his majority. The couple went on to have five children, but the first two, a son and daughter, died in infancy. Their eldest surviving daughter, Jane, the future Lady Jane Grey or Queen Jane, was born in 1537, followed by Katherine in 1540 and Mary in 1545.
During the celebrations for Anne Boleyn's coronation in 1533, Henry was made a Knight of the Bath. He also acted as the king's sword-bearer at the coronation. He was chief mourner at King Henry VIII's funeral in 1547 and Lord High Constable at Edward VI's coronation. Robert C. Braddock points out that though Suffolk nominated him to become a knight of the garter every year, he was never chosen. He was finally elected after Henry VIII's death in 1547, when Edward Seymour became Lord Protector.
In Edward VI's reign, Thomas Seymour, uncle of the king and brother of the Lord Protector, offered to arrange a marriage for Henry's eldest daughter, Jane, to the young king if the Greys made Jane Seymour's ward and if they supported him. Jane was put into his care and went to live with Seymour and his wife, the dowager queen Catherine Parr and Catherine's step-daughter, Elizabeth. After Catherine's death in September 1548, Jane returned to her parents briefly but then, following Seymour's pleading, sent her back to him at Sudeley. Of course, Seymour fell in 1549 and was executed.
Edward Seymour fell in late 1549 and was replaced as the leader of Edward VI's government by John Dudley, Earl of Warwick. Henry Grey supported Northumberland and was appointed to the privy council in November 1541, although he only attended about a third of its meetings. When Dudley was elevated to the Dukedom of Northumberland in 1551, Henry became Duke of Suffolk and he benefited financially from Edward Seymour's final fall and death.
On 25 May 1553, a triple wedding took place at Durham House, the London residence of John Dudley, Duke of Northumberland and it involved two of Henry Grey's daughters - Lady Jane Grey married Guildford Dudley, one of the Duke of Northumberland's sons; her sister Lady Katherine Grey married Lord Henry Herbert, son of the Earl of Pembroke, and Guildford's sister, twelve-year-old Lady Catherine Dudley, married Lord Henry Hastings. Although John Dudley is often thought to have masterminded Lady Jane Grey's marriage to his son, Guildford, in order to further his control of the country on the death of Edward VI, Leanda de Lisle points out that the marriage was, according to William Cecil, the brainwave of Elizabeth Brooke, second wife of William Parr, Marquis of Northampton. Christine Hartweg, wrote in an online article that Dudley and Henry Grey, Jane's father, were second cousins once removed and "more importantly, they were also good friends, and Henry Grey owed both his place on the Privy Council and his dukedom to John Dudley. Thus, a match between their children was not unlikely or inappropriate."
Edward VI died on 6th July 1553. He had spent his last weeks writing his devise for the succession, his instructions for who should succeed him. He viewed his half-sisters Mary and Elizabeth as bastards and so stipulated that the Crown would descend through the male heirs of Frances, Duchess of Suffolk, and the male heirs of her children, if Edward died childless. The problem was that there were no male heirs yet, so when Edward made a turn for the worse he decided to change the Device to read: "To the Lady Fraunceses heirs males, if she have any such issue before my death to the Lady Jane and her heirs males." On 10th July 1553, Henry Grey's daughter Jane was proclaimed queen, but on that same day the privy council received a letter from Mary demanding their allegiance because she was the rightful queen. Henry Grey stayed with his daughter at the Tower of London while the Duke of Northumberland took troops to fight those of Mary. To cut a long story short, Mary was successful in rallying people to her cause and Jane was abandoned by her own privy council. Mary was proclaimed queen on 19th July 1553, and Grey himself proclaimed her so after realising that Mary had won. Jane was imprisoned in the Tower of London, as was her husband Guildford, but due to his wife Frances's relationship with Queen Mary, Henry Grey was released without charge after just a few days.
Grey had been known for his Protestant faith, corresponding with Heinrich Bullinger and supporting Protestant reforms, but in late 1553 it was reported that he had recanted his Protestant faith, which resulted in Mary issuing a full pardon for him.
Unfortunately, Grey became involved in Wyatt's Rebellion, a rebellion organised by Sir Thomas Wyatt the Younger, which sought to depose Mary I and replace her with her half-sister Elizabeth. The initial group, that met in London, on 26th November 1553 didn't include Grey, but he joined them in December and Grey was put in charge of raising rebellion in the Midlands. The privy council got wind of the rebellion and Grey was summoned to appear before the council on 25th January 1554. Grey decided to flee to the Midlands instead, but didn't reach Bradgate until 29th January. When he tried to raise people against Mary's marriage in Leicester and Coventry, he failed. He retreated to his estate at Astley in Warwickshire and William Dugdale in his book "The Anquities of Warwickshire" writes that the Earl of Huntingdon was given powers to prevent all danger, i.e. to apprehend the rebels, so Grey "seeing he was forsaken […] put himself under the trust of one Underwood, (as 'tis said) a keeper of his Park here at Astley, who hid him some days few days in a large hollow tree there, standing about two bow-shoot Southwestwards from the Church: but, being promised a reward, betray'd him; so that it was not long ere he lost his head on Tower Hill. It is also said that his brother, John, hid in the park, in some hay, and was also apprehended. The Grey brothers managed to escape and tried to flee the country, by disguising themselves, but on 10th February the Earl of Huntingdon and others brought Henry Grey and his brother John to the Tower of London.
Henry Grey was tried for high treason on 17th February 1554 at Westminster Hall, having been charged with inciting war in the county of Leicester, posting proclamations against the Spanish marriage, and plotting the death of the queen. He was condemned to death and was beheaded on Tower Hill on 23rd February 1554.
Click here to view Claire's video talk on Henry Grey's execution and the story of his decapitated head.
Notes and Sources
Pictures: Henry Grey, Duke of Suffolk, by Johannes Corvus; Unknown woman thought by some to be Lady Jane Grey.
Braddock, R. (2004-09-23). Grey, Henry, duke of Suffolk (1517–1554), magnate. Oxford Dictionary of National Biography.
Dugdale, William (1656) The antiquities of Warwickshire illustrated : from records, leiger-books, manuscripts, charters, evidences, tombes, and armes : beautified with maps, prospects, and portraictures, Printed by Thomas Warren, London, p. 75.
Hartweg, Christine, "John Dudley, the family man", The History Files, article currently unavailable online.
de Lisle, Leanda (2009) The Sisters Who Would Be Queen: The Tragedy of Mary, Katherine and Lady Jane Grey, HarperPress, Chapter: "A Married Woman".
Bell, Doyne C. (1877) Notices of the Historic Persons Buried in the Chapel of St Peter ad Vincula in the Tower of London..., Printed by William Clowes and sons, p. 177-185.