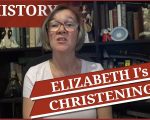 On this day in Tudor history, 10 September 1533, King Henry VIII and Queen Anne Boleyn's daughter, Elizabeth (the future Queen Elizabeth I), was christened at the Church of Observant Friars in Greenwich.
Elizabeth I's christening service was a lavish ceremony presided over by Archbishop Thomas Cranmer, who also stood as the little girl's godfather.
In today's talk, I share a contemporary source of Elizabeth's christening service and also of the celebrations that followed.
[Read More...]