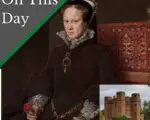 On this day in Tudor history, 9th July 1553, Mary (the future Mary I), daughter of King Henry VIII and Catherine of Aragon, wrote to her late half-brother's privy council regarding "some evil" that she had heard.
This was three days after Edward VI's death and the day after Mary had proclaimed herself queen at at Kenninghall.
But what was going on? What had Mary heard and was she going to do about it?
Find out more about the situation and Mary's letter…
[Read More...]