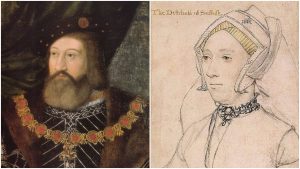 On this day in history, 7th September 1533, the same day that Queen Elizabeth I was born, Charles Brandon, Duke of Suffolk, married Catherine Willoughby.
This was the duke's fourth marriage. He was about forty-nine years old and Catherine was just fourteen. She was the daughter of William Willoughby, 11th Baron Willoughby de Eresby, and his wife, Lady Maria de Salinas, a woman who had come over from Spain with Catherine of Aragon in 1501 as one of her ladies. Suffolk had acquired the wardship of Catherine Willoughby in 1529 and had originally intended to marry her to his son, Henry, 1st Earl of Lincoln. However, following the death of his third wife, Mary Tudor, Queen of France, it appears that Suffolk took a liking to his ward, or rather the money and lands that he would gain by marrying her. Their marriage took place less than three months after Mary's death.
Imperial ambassador Eustace Chapuys reported the forthcoming marriage in a letter to the Emperor dated 3rd September 1533:
"Next Sunday the marriage is to take place of the duke of Suffolk to the daughter of a Spanish lady called Madame Vuillibi (Willoughby), who had been previously engaged to the Duke's own son though only 10 years old. I do consider this piece of information as unworthy of Your Majesty's notice, yet the case is so singular and strange that having nothing better to say I have-been induced to record it here. In contracting such a marriage, the Duke will no doubt please the ladies of this country, who, imitating his example, will no doubt take their revenge, when accused of marrying again immediately after the death of their husbands, as they are in the habit of doing. To indemnify the Duke for the expense, of burying his last wife, the King, I believe, is about to give him the first fruits of a bishopric worth about 12,000 ducats a year."
Suffolk and Catherine were married until the duke's death on 22nd August 1545. They had two children together: Henry and Charles, but unfortunately, the boys died on 14th July 1551, within an hour of each other, in the sweating sickness epidemic. Catherine married Richard Bertie, a member of her household, in around 1552 and had two children by him, Peregrine and Susan. Catherine died on 19th September 1580.
Notes and Sources
Letter written by Eustace Chapuys, 'Spain: September 1533, 1-15', in Calendar of State Papers, Spain, Volume 4 Part 2, 1531-1533, ed. Pascual de Gayangos (London, 1882), pp. 787-800. British History Online http://www.british-history.ac.uk/cal-state-papers/spain/vol4/no2/pp787-800
Wabuda, Susan. "Bertie , Katherine, duchess of Suffolk (1519–1580)." Susan Wabuda In Oxford Dictionary of National Biography, edited by H. C. G. Matthew and Brian Harrison. Oxford: OUP, 2004. Online ed., edited by David Cannadine, January 2008.
Gunn, S. J.. "Brandon, Charles, first duke of Suffolk (c.1484–1545)." S. J. Gunn In Oxford Dictionary of National Biography, edited by H. C. G. Matthew and Brian Harrison. Oxford: OUP, 2004. Online ed., edited by David Cannadine, May 2015.