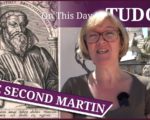 On this day in Tudor history, 8th April 1586, leading Lutheran theologian Martin Chemnitz died in Braunschweig in Germany. He was aged 66.
Martin Chemnitz is known as the Second Martin, with the more famous reformer and theologian Martin Luther being the first, but what did Chemnitz actually do? What was his role in the Reformation?
Find out about the Second Martin in today's talk.
[Read More...]