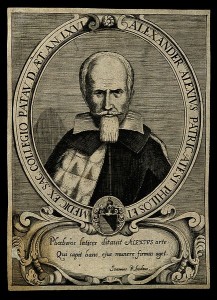 On 17th March 1565, Alexander Ales (also known as Alesius and Aless), theologian and reformer, died in Edinburgh, Scotland.*
Alexander Ales was born Alexander Allane or Alan at Edinburgh on 23 April 1500. His Oxford Dictionary of National Biography entry states that "After his adventurous escape from Scotland he acquired a pseudonym in humanist fashion, Alesius—adopted about 1531—being a Latinized Greek construction meaning exile or refugee."
From the age of twelve he was educated at the University of St Andrews, at St Leonard's College, where there was an Augustinian house, graduating BA after three years there. It is thought that joined the canons as a novice and went on to study for his MA.
In the 1520s, reformist ideas began from Wittenberg began to influence the university, evangelical books having come into the Scottish ports, and in 1523 humanist Patrick Hamilton came to the university. After accusations of heresy, for his Lutheran beliefs, he left for Marburg, but it was not long before he was back in Scotland preaching. In 1528 Hamilton was burnt at the stake after being condemned for heresy. Ales was one of St Andrew's theologians chosen to make the young man recant before his condemnation, due to the fact that Ales had recently refuted Luther's theology in a recent debate. Wiedermann, Ales' biographer in Oxford DNB, writes "Hamilton, however, was able to stand his ground, impressing both sympathizers and many opponents with his arguments and courageous death at the stake." His execution caused an outcry. In March 1529, Ales gave an oration in front of the provincial council in which he "reprehended moral failings among the clergy, calling on the prelates to exercise their pastoral duties and to set an example of good conduct". This infuriated Patrick Hepburn, Ales' new prior, who took it as a personal attack. The consequences for Ales were terrible, he was persecuted by his own prior and feared for his life. This led to him fleeing Scotland for the Continent.
Ales became friends with theologian Philip Melancthon in 1532 when Ales began studying at Wittenberg University, and he began to be concerned with making the Bible available in the vernacular. He published an open letter to James V of Scotland in 1533, Alexandri Alesii epistola contra decretum quoddam episcoporum in Scotia, appealing for him to annul recent legislation making it illegal to own or distribute the New Testament in the vernacular. When the Catholic Johannes Cochlaeus, countered this with a letter to James accusing Ales of translating the New testament and sending it to Scotland, and claiming that it would cause unrest, Ales answered with Alexandri Alesii Scotti responsio ad Cochlei calumnias. In this letter, Ales emphasised how Continental reformers were simply trying to lead people back to the Bible and the teaching of the Early Church. This work also gave a vivid account of the condemnation of Patrick Hamilton and the aftermath of his death.
In August 1535, Ales travelled to England with copies of Loci Communes by Melancthon for Henry VIII and Thomas Cromwell, and when he travelled there again in October, he was appointed King's Scholar at Cambridge University. Spring 1536 was a time of worry for Ales, with the fall of Anne Boleyn, a keen reformer, and resistance to reformist ideas, coupled with the fact that Cromwell hadn't paid his stipend which forced him to leave the university and train as a physician in London. This enabled him to keep in contact with friends such as Archbishop Thomas Cranmer, and contacts like Thomas Cromwell, Henry VIII's Vicar-General.
In summer 1537, Ales was involved in a public row with John Stokesley, Bishop of London, who protested against the view that Ales put forward, as King's Scholar, regarding there being only two sacraments. This debate was published by Ales in 1542 in his De authoritate verbi Dei.
Ales left England suddenly in June 1539 after being warned, by Cranmer, of the dangers of being a married reformer when the Act of Six Articles was about to be made law. This act demanded a vow of celibacy, but Ales was married. Ales travelled back to Wittenberg and then became a professor of theology at Frankfurt an der Oder. After trouble there in 1542, he was forced to leave and take up a position at Leipzig. There, in 1547 during the siege of Leipzig, his house and library were destroyed, but it was the place where Ales chose to end his days, visiting England during Edward VI's reign and translating for Cranmer Latin versions of the Order of Communion and the First Prayer Book. He died on 17th March 1565, leaving his wife Katherine, daughters Christina and Anna, and two sons: Caspar and Alexander.
Ales's works include Cohortatio ad Concordiam Pietatis, missa in Patriam suam (1544), Ad duos et brevis triginta articulos … aeditos a theologis Lovaniensibus brevis & moderata responsio (1545) Expositio Libri Psalmorum Davidis (1550), Ad libellum Ludovici Nogarolae … de traditionibus apostolicis & earum necessitate responsio (1556) and Cohortatio ad Pietatis Concordiam ineundam (1559).
Ales came up a few times in my research into Anne Boleyn's life. On 30th April 1536, just two days before Anne's arrest, Ales witnessed an argument between her and the King - you can read more about this in my article 30 April 1536 - Henry VIII is angry with Anne Boleyn. In the early hours of the day of her execution, 19th May 1536, Ales had a terrible vision or nightmare which he rushed to tell his good friend Thomas Cranmer about - click here to read about that now.
Notes and Sources
*His Oxford DNB biography says "probably Liepzig".
Image: Line engraving by Ruffonus, 1657, Wellcome Images.
Based on an extract taken from On This Day in Tudor History by Claire Ridgway.
Quotes taken from Wiedermann, Gotthelf. "Alesius [Allane or Alan], Alexander (1500–1565)." Gotthelf Wiedermann In Oxford Dictionary of National Biography, edited by H. C. G. Matthew and Brian Harrison. Oxford: OUP, 2004.