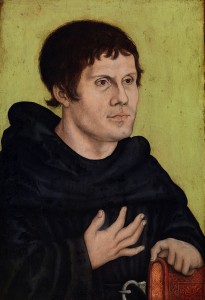 Today, 31st October 2017, is the 500th anniversary of the beginning of the Protestant Reformation. German Reformer Philipp Melancthon recorded that "Luther, burning with passion and just devoutness, posted the Ninety-Five Theses at the Castle Church in Wittenberg, Germany at All Saints Eve, October 31", and Luther sent a copy of The Ninety-Five Theses (proper title: Disputation of Martin Luther on the Power and Efficacy of Indulgences) to Albert, Archbishop of Mainz, and the Bishop of Brandenburg along with a letter protesting against the sale of indulgences.
Martin Luther's 95 Theses had a major impact. The resulting controversy over Luther's letter and his Theses is seen as the beginning of the Reformation, the schism from the Catholic Church and the start of Protestantism.
To celebrate this anniversary, here are links to resources on the Reformation:
Today is also Halloween, or All Hallows Eve. Click here to read more about this feast day and for my video on soul cakes.