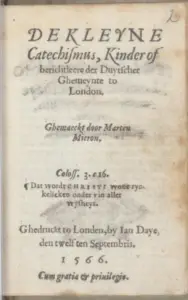 On this day in Tudor history, 12th September 1559, in the reign of Queen Elizabeth I, Marten Micron (Martin Micronius), Dutch theologian and Protestant minister in the London stranger, died from plague at Norden in Lower Saxony, Germany.
Here are some facts about Marten Micron:
Micron was born in Ghent in 1523.
It is thought that he converted from Catholicism to Protestantism before he left his homeland in 1546.
In 1548, Micron moved to Zurich, where he became friends with Reformers Heinrich Bullinger and John Hooper.
In 1549, Micron published a medical textbook In libros de placitis Hippocratis et Platonis argumenta.
Also in 1549, Micron accompanied John Hooper on Hooper's return to England.
In 1550, a royal charter named Micron and Gualter Delenus as ministers to the Dutch immigrants in London. Micron preached his first sermon in a newly established church at Austin Friars on 12th December 1550.
In 1552, Micron published the catechism "De kleyne cathechismus oft kinderleere" and "Een clear bewijs van het recht gebruyck des nachtmaels Christi", which was a statement of his church's doctrine on the eucharist.
In 1553, he published the catechism "Een corte undersouckinghe des gheloofs" and in 1554, he published "Christlicken ordinancien", the church order of the London stranger churches. Micron's biographer, Anrew Pettegree, notes that this order and a Latin version by John à Lasco "would have a profound influence on later Calvinistic church orders". Pettegree goes on to explain that Micron combined elements from Calvin's orders for Strasbourg, Geneva and also Zurich and Emden.
In 1553, following the accession of the Catholic Queen Mary I, Micron, à Lasco and others left England bound for Denmark. However, they were refused refuge there, so Micron travelled on to Emden.
In 1556, Micron published "Een waerachtigh verhael der t'zamensprekinghen", an account of debates he had with Anabaptist Menno Simons in Wismar when he first fled into exile.
In 1554, Micron became a minister at Norden and published "Kort underricht", which Pettegree describes as "a new exposition of eucharistic theology".
In 1555, he was one of the contributors to "Waerachteghe historie van Hoste vander Katelyne", a work of martyrology.
He died of plague at Norden on 12th September 1559.
His "Kort underricht" was translated into English by Thomas Cottisford in 1556 as "A Short and Faithful Instruction, Gathered out of Holy Scripture", and some of his work for "Waerachteghe historie van Hoste vander Katelyne" was translated into English and published in a broadsheet in England in 1561.
Also on this day in Tudor history...
Notes and Sources
Pettegree, A. (2004, September 23). Micron, Marten [Martin Micronius] (1523–1559), protestant minister and theologian. Oxford Dictionary of National Biography. Retrieved 11 Sep. 2023, from https://www.oxforddnb.com/view/10.1093/ref:odnb/9780198614128.001.0001/odnb-9780198614128-e-68324.