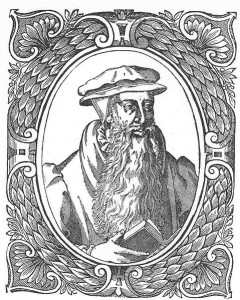 On 20th July 1554, John Knox, theologian and a leader of the Protestant Reformation in Scotland, published his pamphlet A Faithful Admonition to the Professors of God's Truth in England.
You can read this work for yourself in the Works of John Knox, p. 251, on Google Books - click here.
Here's an extract from my book On This Day in Tudor History about this work:
In this pamphlet, Knox attacked Mary I, the "incestuous bastard", for turning England away from the Protestant faith. He wrote of her being worse than Jezebel, saying that Jezebel "never erected half so many gallows in all Israel, as mischievous Mary has done within London alone". He also attacked her "pestilent council" and her bishops for helping her in her cruelty against Protestants.
As for Mary's impending marriage to Philip of Spain, Knox wrote:
"But, O England, England! if you obstinately will return into Egypt: that is, if you contract marriage, confederacy, or league, with such princes as maintain and advance idolatry (such as the emperor, who is no less enemy unto Christ than ever was Nero): if for the pleasure and friendship (I say) of such princes, you return to your old abominations, before used under the Papistry, then assuredly, O England! you shall be plagued and brought to desolation, by means of those whose favours you seek, and by whom you are procured to fall from Christ, and to serve Antichrist."
Also on this day in history...
1524 - Death of Queen Claude, consort of Francis I of France. Click here to read more about this over at The Anne Boleyn Files. Claude was laid to rest at Saint-Denis, just outside of Paris, and you can see pictures of her tomb and find out more about Saint Denis in my Claire Chats Video The Basilica of Saint-Denis.