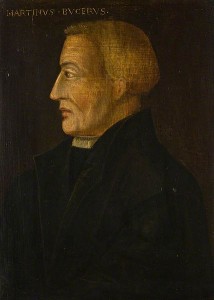 During the night of 28th February/1st March 1551, theologian and Protestant reformer Martin Bucer died in Cambridge. He was fifty-nine years old.
Let me tell tell you a bit more about this reformer, who ended up being posthumously burned as a heretic in Mary I's reign!
Martin Bucer was born on 11th November 1491 in Sélestat, Alsace, to cooper Claus Butzer, that's the German variation of the name, and his wife, Eva.
In his childhood, his parents moved to Strasbourg, but he stayed in Sélestat with his grandfather, and he joined the Dominican priory there in 1507, taking his vows the following year.
His studies for the priesthood involved him moving to Heidelberg and then Mainz. It is thought that he was ordained in around 1516. He went on to attain a Masters and Bachelor of Theology at Heidelberg.
In April 1518, he heard Protestant reformer Martin Luther give his disputation and this had a major impact on Bucer.
His change in religious views led to him being released from his monastic vows in 1521 and becoming a secular priest. He served as chaplain to the count palatine of the Rhone before taking the post of pastor of Landstuhl, where he married Elizabeth Silbereisen, a former nun. The couple had several children together before his wife, and some of their children, died of the plague in 1541. He then married widow Wibrandis Rosenblatt.
In 1523 Bucer was forced to flee to Strasbourg with fellow reformer Heinrich Motherer due to their work for the reformation. Bucer was protected in Strasbourg due to his father being a citizen there. In Strasbourg, he lectured on the New Testament, wrote his first treatise "That no one should live for himself but for others" and then, in 1524, was appointed as a pastor.
In Strasbourg, Bucer was opposed by the Catholic bishop and also the Anabaptists, but he took a lead in reform in the city.
Although Bucer had been influenced originally, by Luther, his views on the Eucharist saw him allying with reformers like Zwingli. Lutherans believed that Christ was really present in the Eucharist, while those following Zwingli believed that Christ was spiritually present by faith, although Bucer came to believe that the disagreement was more to do with words than belief. In 1529, when Zwingli and Luther attended a meeting arranged by Landgrave Philip of Hesse to try and reconcile their beliefs on the eucharist, Zwingli and Bucer tried to reconcile with Luther but were rebuffed.
In the 1530s and 1540s, he helped with reform in other cities like Ulm, Augsburg, Hesse and Cologne.
In the 1530s, Bucer supported the idea of a national church council that could work towards a compromise to please both Catholic and Protestant theologians and to prevent schism. However, the eucharist was always the sticking point. Peacemaker and pragmatist Bucer wanted to use ambiguous language to try and please different sides and bring them together, but ended up being criticised by the different sides.
In April 1549, Bucer and his friend, Paul Fagius, were forced to leave Strasbourg and go into exile after the city was compelled to accept the Augsburg Interim, which was Charles V's decree imposing Catholic rites throughout his empire. They had somewhere to go, though, as they were invited to England by Thomas Cranmer, Edward VI's Archbishop of Canterbury.
Bucer and Fagius met King Edward VI in May 1549, just after their arrival. In England, Bucer's opinion was sought on Edward VI's first prayer book and his thoughts used to revise it for the second prayer book. As the Encyclopedia Brittanica notes, no-one was happy with the resulting prayer book. It didn't go far enough for the radical reformers yet offended the conservatives.
In his final years in England, Bucer was Regius professor of divinity at Cambridge, while Fagius lectured on Hebrew.
Bucer's friend and colleague, Fagius, died in November 1549, and Bucer's health began to decline. It is thought that tuberculosis caused his death on 28th February/1st March 1551. He was buried in Great St Mary's Church at a funeral attended by around 3,000 people. Cranmer and Catherine Brandon, Duchess of Suffolk, were bequeathed his books while the king received his manuscripts.
As well as treatises and proposals for reform, his works included commentaries on several books of the Bible.
On 6th February 1557, the remains of Bucer and Fagius were exhumed and publicly burned with their works on Market Hill, Cambridge, after they were posthumously excommunicated and found guilty of heresy. In Elizabeth I's reign, in 1560, their condemnations were overturned.
Here's my video on the burning of their remains:
Also on this day in Tudor history...