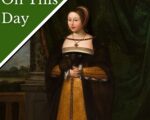 On this day in Tudor history, 30th September 1515, Margaret Tudor, sister of Henry VIII and former queen consort of King James IV of Scotland, fled from Scotland to England.
Margaret was pregnant with the child of her new husband, Archibald Douglas, 6th Earl of Angus, at the time.
Her remarriage had cost her the regency for her son, King James V, who had been born in 1512 and had become king on his father's death in September 1513. John Stewart, 2nd Earl of Albany, took over as regent and had custody of the young king and his brother, Alexander. Margaret hoped that her brother, Henry VIII, would help restore her to the regency.
[Read More...]