Today it's not only International Women's Day, a day where we acknowledge the social, economic, cultural and political achievements of women, but the whole of March we celebrate Women's History Month! A month in which we commemorate the contributions of women to events in history and contemporary society.
In the Tudor times there were a lot of fascinating women, including four queens. Although we often hear about Elizabeth I and Anne Boleyn, there were also many interesting women who aren't as known nowadays. That's why we listed a few of them and their stories.
Mary Seton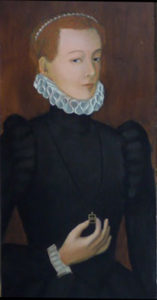 Mary Seton was the daughter of George, 4th Lord Seton, by his second wife Mary Pyerres. As a little girl, Mary accompanied Mary Queen of Scots in France along with the other three Maries (Fleming, Beaton and Livingston). Seton was the only one to never marry, although she did have admirers, she stuck to her vow of chastity.
She remained in the service of Mary Queen of Scots, even during her period of house arrest in England, where she was not paid. In France, Seton had learned the skill of hairdressing. A skill which she used to maintain Mary Queen of Scots' rapidly thinning hair with wigs and hair pieces. By 1583, four years before Mary Queen of Scots died, she retired and went to France to join Queen Mary's aunt at the convent of St. Pierre des Dames in Reims. Here she died in 1615.
Information from: http://www.maryqueenofscots.net

Portrait hanging in Mary       
Queen of Scots' visitors
centre in Jedburgh
Margaret Tudor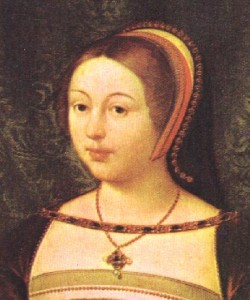 Margaret Tudors' parents were King Henry VII and Elizabeth of York. She is probably the most well known woman on this list, as she is Mary Queen of Scots' grandmother, but nevertheless a good person to add, as she has a fascinating story.
At the age of 13 she married King James IV of Scotland. After he died in the battle of Flodden, she became the regent for a while. Although she had opposition, she managed to reconcile Scotland and England. When she secretly married Archibald Douglas, the Privy Council ruled that she had acted against the terms of James IV's will and could no longer act as Regent.
Sadly, her husband abandoned her, but she didn't look back and went to London. Later, Margaret returned and found out that her husband had been living with another woman. At first the couple reconciled, but Margaret decided that she wanted to divorce. Her wish was granted by the Pope.
Detail of a portrait by Daniel Mytens           To read the whole story, click here. (Members only)
Anne Seymour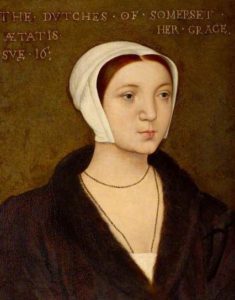 As the only child of Sir Edward Stanhope and Elizabeth Bourchier, Anne Seymour was the sister-in-law of Queen Catherine Parr. She has been labelled as a 'wicked woman' in her own lifetime up until present day, because of her alleged fall out with Catherine.
Anne appears to have served Catherine of Aragon as a maid of honour and it is believed that she served the other wives of Henry VIII as well. She also had an excellent relationship with Mary Tudor and the two enjoyed playing cards together.
The Duchess of Somerset, as Anne was also known as, had married Edward Seymour, Jane Seymour's brother. Edward and Anne had a warm relationship and they had ten children together, a clear sign of their loving and intimate bond.
Portrait of Anne Seymour by               To read the whole story, click here. (Members only)
Thomas Youngerman Gooderson      
Elisabeth Parr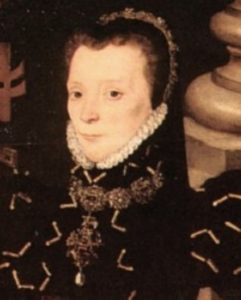 Elisabeth Parr grew up familiar with court politics as she was the daughter of George Brooke, 9th Baron of Cobham, and Anne Bray. In 1543 Elisabeth was at court during the time that Catherine Parr was queen consort. Elisabeth and Catherine's brother William fell in love, but he was still married. Four years later they married in private. When Edward Seymour, Lord Protector, discovered them, they were ordered to separate. In 1548 their marriage was at last, declared valid.
During her life she was one of Queen Elizabeth's closest lady friends. They were very close and when Elisabeth fell ill the queen came to visit her. And after she died of breast cancer at the age of 39, Queen Elizabeth was absolutely devastated and ended up paying for her friend's funeral.
Information from Kate Emerson.
Detail of the Cobham Family                
Memorial Portrait
Not a member yet? Start our 14 day free trial!
Want to learn more?
If you want to learn more about these and other Tudor women, you can watch these videos. To read more about them, look in our Tudor women category!